The 1960's will always be remembered for their counter-culture and rebellion against the status quo: long hair, loud music, and loud clothes!  Skiing in the 1960's was no exception.  A whole group of young skiers began to do things on skis that hadn't been seen before.  It was called Hot Dog Skiing.
Tricks and jumps had always been part of skiing.  Reuel (royal) Christies, tip rolls, window jumps, geländesprungs had long been a way for expert skiers to show off their skill.  But it was incidental to their primary skill which was skiing itself.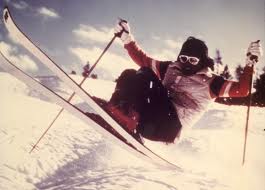 Hot Dog skiers made the tricks and jumps the primary focus.  And they invented new tricks and jumps as well.  A young ski instructor from Vancouver, British Columbia, was particularly creative adding such terms as "The Worm Turn", "The Slow Dog Noodle", and "The Outrigger" to skiers' vocabulary.  His name was Wayne Wong.
Don Post was the first correct responder to identify Wayne Wong as the inventor of "The Worm Turn" and "The Slow Dog Noodle."  Don had first-person knowledge as he initially saw these tricks and Wayne Wong when they were both in an early freestyle contest at Waterville Valley, New Hampshire!  Oh, by  the way, the judge of that contest was none other than Jean Claude Killy, the subject of last week's column!
I also received the correct answer from Bill Kornrumpf and Lisa Trubiano who named Wayne Wong.  Lisa also commented on last week's column which contended that Jean Claude Killy was skiing's biggest sex symbol.  She feels that title should go to Alberto Tomba.
But back to Wayne Wong.  Wong was born on October 17, 1950 in Vancouver.  Even though his family didn't ski he became hooked on skiing by age 11.  At age 16 Wong took a job as a ski instructor to afford his passion.  As for the tricks, Wong said "we'd start playing around when we got bored."
When Wong was in college he heard of a Freestyle Exhibition being held at Waterville Valley so he made the cross country trip to compete.  That was in 1971 and I assume it was the contest Don Post was in as well.  That competition consisted of a single run which included a mogul field, kickers for aerial jumps, and a groomed slope for tricks.  Wayne Wong actually finished third in that competition, but his innovative tricks made him a crowd favorite.
The following year, 1972, Wong was named the first ever Freestyle Skier of the year.  As the title indicates, Hot Dog Skiing became Freestyle Skiing.  Three events emerged: Moguls, Aerials, and Ballet.  Wong and other Freestyle names including Scott Brooksbank, John Clendenin, Eddie Ferguson all participated in a professional tour that travelled around the world.  They even visited Stowe for a Winter Carnival in 1975, I believe.   Cheryl Brayman (who also identified Wayne Wong) remembered that it was the Professional Freestyle Associates (PFA) tour that came here.
I remember that the mogul contest was held on the Upper National on a "three-blanket-day!"  The temperature was right around zero with about a 30 mile-per-hour breeze.  The western competitors were huddled in the Octagon not venturing out until the event started.  To their credit, many of them peeled off their parkas skiing the course in just sweaters and whooping it up like it was a 40 degree spring day!
Initially on the professional tour the overall winners were the ones with the best cumulative scores through all three events.  While this did reward athletes that could do all three, the fans wanted to see the skiers who excelled in the individual events.  Specialists began to dominate the individual events.  This was particularly true in aerials which quickly became closer to a gymnastics or diving competition than a sk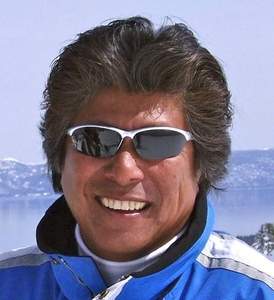 iing competition.  Today only moguls and aerials survive and are recognized as Olympic events.  Ballet, which actually involved some of the neatest tricks, lost fan appeal and is now only seen at retro events.
Wayne Wong now lives in Reno and is still involved in skiing and ski equipment.  He was inducted into the Canadian Skiing Hall of Fame in 2009 and will be inducted into the U.S. Ski and Snowboard Hall of Fame this coming April.