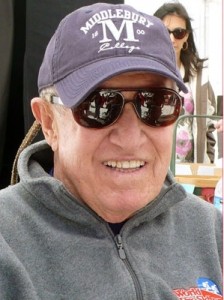 How did a Middlebury College football player become the most important figure in promoting alpine ski racing in the United States?  That football player would go on to be the coach of the U.S. Ski Team, founder of the World Pro Ski Tour, founder of the Buddy Werner league, commissioner of NASTAR, and a TV ski racing commentator for twenty years!
His name is Bob Beattie.
Bob Beattie was born on January 24th, 1933 so he recently celebrated his 80th birthday.  He was born and grew up in Manchester, New Hampshire.  Stowe Host Bill Kornrumpf correctly identified Manchester as Beattie's birth place.
My reason for selecting this particular trivia question was actually based on some mis-information.  The U.S. Ski and Snowboard Hall of Fame website indicated Beattie's birth place as Manchester, Vermont!  I thought the Vermont connection made for a good trivia question.  However my subsequent research showed that the Hall of Fame website was incorrect and should have said Manchester, New Hampshire.
Bob Beattie majored in Education at Middlebury graduating in 1955.  He lettered in three sports: football, skiing, and tennis.  Beattie was a so-so alpine ski racer, but did better at cross country.  Beattie stayed on at Middlebury after graduation as an assistant coach.  When legendary Middlebury ski coach Bobo Sheehan was named the 1956 U.S. Olympic Team coach, Beattie became the Middlebury ski coach during Sheehan's absence.
That year Beattie took the Middlebury ski team to the NCAA's held at Winter Park, Colorado. They placed a respectable third behind Denver and Dartmouth.  The University of Colorado athletic director was impressed enough with Beattie's work that he offered Beattie the head ski coaching job at CU.
At Colorado Beattie recruited American skiers and was particularly successful recruiting Eastern racers with scholarships.  At that time Eastern colleges were not offering skiing scholarships.  Beattie recruited such familiar names as Billy Kidd, Jimmy Heuga, and Spider Sabich.  Beattie's approach was in contrast to Willie Schaeffler's approach at Denver where Europeans and Scandinavians were recruited.
Beattie's approach was successful enough to win the NCAA's in 1959 and 1960 over the powerful Denver team.  This success caught the eye of the U.S. Ski Association who named Beattie the U.S. Ski Team coach in 1961.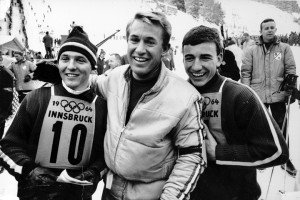 Beattie's coaching style was more football than skiing.  Beattie drove his athlete's hard.  He emphasized conditioning since he felt one of the big differences between U.S. skiers and Europeans was conditioning.  He emphasized winning, not just being satisfied with a good finish.  Beattie used controlled tantrums to motivate his athletes, get what he wanted from the USSA bureaucrats, and get better seedings for his athletes from the FIS.  Beattie's biggest success came at the 1964 Olympics with the first U.S. men's alpine skiing medals – Billy Kidd's silver and Jimmy Heuga's bronze.
Beattie remained the head coach of the U.S. Ski Team until 1969. Other than the 1964 Olympics the team's results were not impressive although the U.S. became the number one ranked team in slalom.  However Beattie had made other contributions.  He pushed fund raising that saw the team budget go from $30,000 in the early 1960's to over a million dollars.  He showed his athletes that ski racing could be a full-time endeavor and lead to related careers in the skiing industry.  He was influential in starting the FIS World Cup.  From Beattie's perspective this guaranteed that the top European racers would have to come to North America for some races neutralizing their home field advantage.
After leaving the U.S. Ski Team, Beattie founded and promoted the World Pro Ski Tour.  He also became a commentator for ABC and ESPN on alpine ski racing.  His coverage included the 1976, 1980, and 1984 Olympics.
Throughout his career Bob Beattie always had his critics, but his enthusiasm for alpine ski racing was undeniable.  This enthusiasm helped motivate athletes to race and even non-skiers to watch them race.