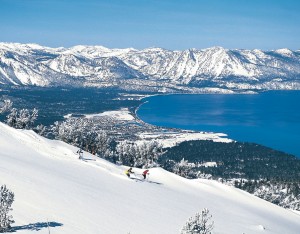 My wife and I spent last week visiting friends Bob and Laurie Walker who live in Minden, Nevada. From their house it's about a twelve mile drive to the Heavenly Valley ski area.  Of course you climb some 3000 feet during that drive.
On our first day we skied with some other locals: Charlie Barone, his wife Leslie, and John Edmundson.  All three of them have been skiing Heavenly for more than 40 years!  Charlie was excited since the day before he had skied with Wayne Wong and Jim Plake, Glen Plake's father.  I'm sure we were a let down from that company!
I rode up the lift with John who had the most knowledge of Heavenly's history and picked his brain for the inside dope.
In 1953 Chris and Dottie Kuraisa moved their family to South Lake Tahoe with the goal of starting a sporting goods shop.  A funny thing happened and Chris ended up spending their life savings to lease a small ski operation called the Bijou Ski Run.  It only consisted of a couple of rope tows, but they were in the ski business.
Their first season was a success, but Chris had higher aspirations.  In particular his aspirations included 10,000 foot Monument Peak which loomed over South Lake Tahoe.  He struck up a partnership with some of the local casino owners to raise money.  They moved the tows higher up the mountain and added a 4000 foot long chairlift.
On December 15th, 1955 the area opened under a new name: Heavenly Valley.
In 1964 the Kuraisas sold their share of Heavenly to San Francisco attorney Hugh Killebrew who would quickly gain full control.  He saw the potential of developing the Nevada side of the mountain and by 1967 Heavenly could claim to be "America's Largest Ski Area".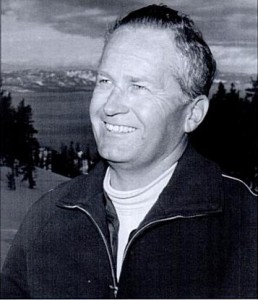 Killebrew was a colorful, energetic man with many celebrity friends who soon graced Heavenly's slopes.  He was the nephew of Harmon Killebrew, baseball Hall of Famer.  Hugh Killebrew married one of the original Toni Twins – you know, "Which twin has the Toni?"  Long-time Red Sox fans blame Hugh Killebrew for shortening Cy Young winner Jim Lonborg's career!  Killebrew took Lonborg to the top of Gun Barrel, Heavenly's notorious mogul trail, and basically dared him to ski it.  Lonborg broke his leg and missed most of the next season.
In 1977 Hugh Killebrew was killed in a private plane crash that also claimed the life of Heavenly ski school director Paul Pfosi.  Killebrew's son Bill and wife Ellie took over the reins of Heavenly Valley following the accident.
Following the Killebrews, Heavenly's ownership has changed several times.  In 1997 Les Otten's American Ski Company took over and then in 2002 current owner Vail Resorts, Inc. became the owner.
And of course in 1998 Sonny Bono died as a result of striking a tree just off the edge of the Orion's trail at Heavenly.  Lots of correct answers to that trivia question from last week.  The first correct responder was Stowe's Lyndall Heyer.  Others with the correct answer included Jack Pickett and Bill Kornrumpf.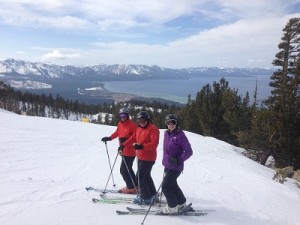 The most striking feature of Heavenly Valley is Lake Tahoe.  The California side of Heavenly offers constant views of one of our nation's treasures.  You never get tired of looking at the lake's many shades of blue surrounded by mountains
The second most striking feature is the tree skiing that Heavenly offers – no play on words intended.  We didn't get a chance to sample it due to snow conditions, but those big, widely spaced western evergreens sure look inviting.  Locals estimate that over 75% of the skiable terrain at Heavenly is in the trees.