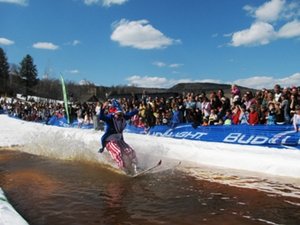 Spring skiing triggers memories from springs past.  This week I'd like to share one that has no particular historical value, but provides a personal example.  Hopefully it will trigger some spring memories for you as well.
The first ski season I lived in Vermont I met a fellow skier at work named Dick.  I'll just use first names to protect the innocent.  Relatively late in the season we ended up skiing together for a day.  When he saw that I was a reasonably good skier, he said that he knew a group of guys I had to meet.
It turned out that the day Dick was able to get us all together for a day of skiing was the first real spring-like day of the season.  There would be five of us – Dick, Bob, Jerry, Ron, and myself.  We met at Bob's house since he had a 1960ish Chevy that could hold us all.  We headed for Madonna Mountain ski area.
The sun and spring "hero" snow were a perfect setting for a bunch of 20-something males trying to impress each other.  A couple of the guys had been youth racers while the rest of us were recreational skiers, but we were all pretty close in ability.  Jerry did impress me when he landed a jump in the soft spring snow.  The sudden deceleration threw him so far forward that he was looking back between his legs with his head dragging in the corn snow – and he pulled it out! No heel release on those bindings.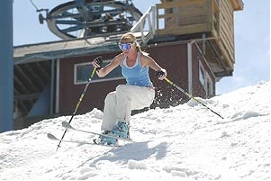 As the day warmed, we shed parkas skiing in our "de rigueur" sweaters.  But after lunch, conditions had gotten so soft and slow that it was more work than fun so we made our way to the base of Morse.  There we bought a couple of six packs at the store in Madonna Village, sat in the sun on some hay bales, and got to know each other.
I was the youngest.  The rest had been born during WWII before their respective fathers headed off to the war although Dick said he thought his father had been overseas for two years when he was born (he was kidding.)
All 4 of the guys were UVMers.  Two had already graduated while the other two were finishing their degrees while holding down fulltime jobs.  Three out of the four were already married.
All this sharing required at least one more trip to the store for beer and soon the afternoon had worn down.  We made our way back to the car.  Now before I continue, in case my kids or grandkids read this, we would have, should have used a designated driver, but they hadn't been invented yet.
On our way back down the Jeffersonville side of 108 we stopped at the Haus and Heim for a few more beers.  It was there that Ron realized he was missing his wallet – well, he was actually missing his parka with the wallet in it.  We said, "don't worry, this round's on us."  Ron went off to find his wallet.  Sometime later he returned and still no wallet.  We said, "don't worry, this round's on us."
It was about dusk when we arrived at Bob's house where we had left our cars.  The first sign that something might be amiss was that Bob's wife was outside to meet us, arms folded in that manner that indicates trouble.
"Where have you guys been?"
"uh, Skiing."
"Ron's wife just called and said somebody in Montreal has his wallet!  Were you guys in Montreal?"
So what must have happened was that in loading the car, Ron's parka must have ended up on the car rather than in the car.  It blew off along 108 where a Good Samaritan picked it up – on their way home to Montreal!
Apparently Ron's wife didn't believe this story because he was never allowed to ski with us again.  But the rest of us would ski together through many seasons including trips to the American west and Europe.  While life has now taken us on different journeys and we no longer get the opportunity to ski together, I'd like to think that they may occasionally remember this spring skiing story and smile.
Last week's trivia question asked when the Nosedive was widened and the seven turns reduced to three.  Both Bunny Libby and Mike Leach correctly identified 1965 when the trail was prepared for hosting the 1966 U.S. Nationals.
This brings another RetroSki season to a close.  Many thanks to all who have supported this column, particularly those who have responded to or suggested the weekly trivia questions.  I look forward to returning again next ski season!