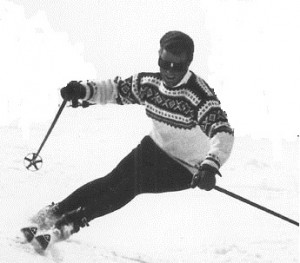 Until Jean-Claude Killy came along, Stein Eriksen was the most recognizable and influential figure in skiing. Those of us who learned to ski in the 1950s and early 1960s tried to copy his style: skis locked together, exaggerated counter-rotation of the shoulders, hips hung out over the slope defying gravity. We also copied his on-slope fashions: in-the-boot stretch pants, turtle neck, windshirt, and ski sweater. That was the "uniform" that I have written about in the past. But despite all the attempts to copy him, there is only one Stein Eriksen.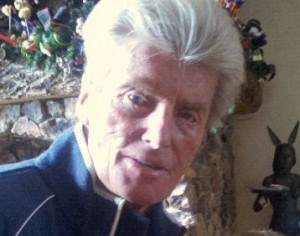 Stein was born December 11, 1927. So yesterday was his 86th birthday. Bob McKee was once again quick to phone in the correct answer identifying Stein as the birthday boy. Bob also said that Stein was his first ski hero.
Stein was born in Oslo Norway where his father Marius was an accomplished skier and involved in making skis and bindings. Marius is credited with designing the first bear-trap bindings which at the time were an advance over earlier bindings. Marius was also an Olympic gymnast and Stein trained under him which undoubtedly contributed to his graceful athleticism.
Stein achieved Olympic success in 1952 winning a gold in the GS and a silver in the slalom. Two years later in the World Championships he would take gold in both the GS and slalom.
Stein then decided to turn his growing fame into some money. Everett Kircher, owner of Boyne Mountain in Michigan, offered Stein $5000 to come to the United States and head up the Boyne ski school. Stein said "I'll accept if you double the offer!" Kircher did and Stein started a job jumping career that would see him associated with many of the premier ski resorts in the United States. Locally he spent four years heading the Sugarbush ski school during the mid-1960s. The alleged story behind Stein's Run is that Stein was riding up the gondola with General Manager Jack Murphy and commented that Sugarbush was a "funny mountain" in terms of trail layout. Murphy responded by challenging Stein to layout his own trail. The result was his namesake trail that still challenges skiers today.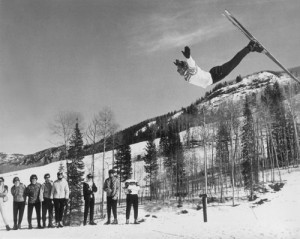 It may have been Stein's racing results that first attracted attention, but for most of us Stein will always be associated with doing a flip on skis. Stein wasn't the first skier to do a flip and by today's standards, his flips were pretty basic. But he did them with such style in a full layout that they became his trademark. Every Sunday at 1:00 crowds would gather and Stein would perform. He is credited with helping start the freestyle movement that would thrive in the 1970s.
Stein Eriksen has been the director of skiing in Deer Valley since it opened in 1981. The elegant 5-star resort is a good match for Stein's elegant style. He is the host at the Stein Eriksen Lodge although he does not own the lodge. The Lodge advertises a celebration of his 86th birthday this week.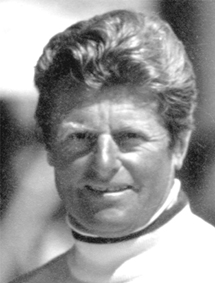 Another of Stein's trademarks was skiing without a hat. That changed after a skiing accident right after his 80th birthday in 2007. A collision with a young skier caused serious injuries that took Stein out for that season. When he returned the following season he began wearing a helmet. He claims that his wife, Francoise, makes him wear it.
This summer Stein suffered another health scare that hospitalized him for a week, but he is expected to be back on the slopes this season. Maybe he took some runs on his birthday!