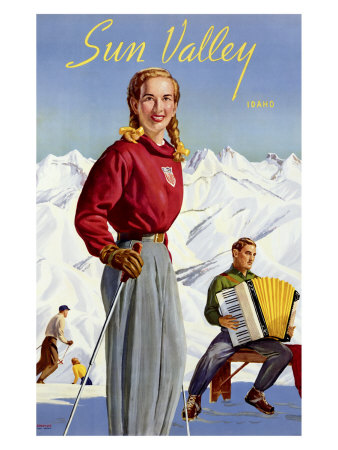 The picture is of a smiling blonde girl with pigtails tied with yellow ribbons. She's wearing 1940s skiwear unremarkable except for the US Olympic team logo on her tunic. This picture was featured on Sun Valley posters in the late 1940s and early 1950s. It can still be found today in the Sun Valley Lodge. Who is the girl on the poster?
Gretchen Kunigk was the daughter of German and Norwegian immigrants Willibald and Clara Kunigk. In 1932 when Gretchen was 13 she received her first skis as a Christmas present. Her mother, Clara, had learned to ski in Norway and wanted her children to learn the sport. She took Gretchen to Paradise Valley on Mount Rainier and began teaching her to ski.
The local ski club instructors held open races on the weekends as a way of helping novices improve and Gretchen entered these races. By 1935 Gretchen began to win some of the races. In 1936 Austrian Otto Lang took over the ski school at Paradise Valley and took an interest in Gretchen – she was a beginner, but still skied the toughest slopes. Under his instruction her technique improved rapidly. The following year she would take a first in slalom, second in the combined, and third in downhill at the Pacific Northwest championships.
Gretchen would dominate the Pacific Northwest championships in 1938 and become romantically involved with the men's winner, Don Fraser. They were both invited to participate in the Harriman Cup at Sun Valley as a result of their Northwest championships. Their engagement was announced at the race banquet by none other than Averell Harriman himself. And it's not clear whether Don had actually proposed to Gretchen before that announcement.
As a result of her 1938 racing success Gretchen was named to the 1940 US Olympic team. The women's team was coached by Friedl Pfeifer, the best slalom skier of the era and Gretchen worked hard under his tutelage to master some of his techniques. Unfortunately for Gretchen the 1940 Olympics were cancelled due to the onset of World War II.
In November, 1939, Gretchen Kunigk married Don Fraser and became Gretchen Fraser. They would move to Sun Valley where Don now worked. Gretchen continued racing successfully, winning several US national championships. However after 1942, ski racing was suspended due to the US entry into the War.
Gretchen Fraser would be out of ski racing for five years finally returning in 1947 at age 27. She still easily won the US Olympic trials beating the young Andrea Mead.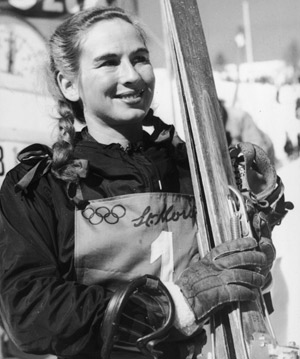 The 1948 Winter Olympics were held in St Moritz and included 932 athletes from 28 nations. US skiers were not taken as serious threats against the heavily favored Europeans. The first event for the women was the downhill. Gretchen finished a respectable 5th, but created very little buzz since it was largely considered a fluke. However the next day Gretchen finished second in the combined slalom giving her a silver medal in the combined. The US had its first Olympic medal ever in alpine skiing! Then Gretchen won the gold medal in the special slalom by a half second over the favored French and Germans. Gretchen Fraser became a true Olympic star.
Sporty Bell was the first to correctly identify Gretchen Fraser as the first American alpine skier to win a medal. I did get a few people thinking that it was Andrea Mead Lawrence, which I expected. At least here in Vermont Andrea is a much more recognizable name, but Gretchen paved the way for Andrea's later success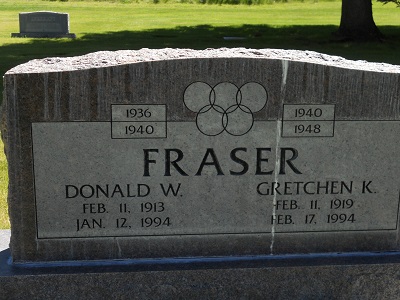 After her Olympic success, Gretchen and Don began a family. They continued to ski, but Gretchen pursued a wide variety of interests. She continued her work with the disabled that had begun during World War II and eventually established the Idaho Special Olympics. She became one of the leading women equestrians in the Pacific Northwest. She became a pilot and even flew jets with Chuck Yeager. Her life ended in February, 1994, in her beloved Sun Valley less than two months after her husband of 54 years died. She had been skiing just days before she passed away.
Gretchen's Gold is a run off the Seattle Ridge lift at Sun Valley that commemorates her achievements and her connection to the area. In the Sun Valley Lodge there is also Gretchen's restaurant where you can see the picture of the blonde skier with pigtails.