So who won that first official ski race on Mount Mansfield? Bob Stewart was the first to correctly identify Dick Durrance. And Bob knew it right off the top of his head!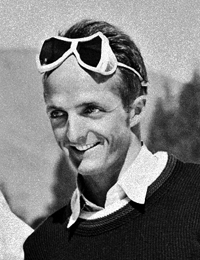 Tom Hubbs also identified Durrance as the winner of that first official race, and Tom added that there had also been an unofficial first race on February 11, 1934 with local talent. The winner of that race was Jack Allen of Burlington with Charlie Lord and Craig Burt, Jr finishing second and third. Tom came across this information in Charlie Lord's old diaries when Tom was helping Peter Oliver do research for his Stowe book.
Mike Leach also added some details about the unofficial February 11th race. There were thirteen competitors and the winning time was 10 minutes 48 seconds for the 3.5 mile course down the Bruce trail.
But back to the official race and Dick Durrance. In those early pre-ski-lift days Durrance was the biggest US name in skiing. Not bad for a young man from Tarpon Springs, Florida!
In 1928 when Durrance was thirteen his family moved from Florida to Garmisch, Germany. Durrance tried skiing and he was a natural. In 1932 he won the German Junior alpine championship.
Hitler was on the rise in Germany and so in 1933 the Durrance family moved back to Florida. But Dick wanted to ski which brought him to New England and eventually Dartmouth College. And it also brought him to Stowe to race in February, 1934.
Durrance would dominate US ski racing winning seventeen national championships. Eventually the US national championship medal would contain his likeness. Perhaps inspired by that, Durrance still continued to win enough of those medals to make his wife a necklace. His biography is entitled "The Man on the Medal".
He was the first racer to retire the Harriman Cup at Sun Valley after winning it three times. The Harriman Cup was the first US race that attracted European competitors. In 1937 the race was held on Boulder Ridge Mountain and Durrance won his first Harriman beating all the Europeans. Averell Harriman was so pleased that he renamed the mountain after Durrance. Today Durrance Mountain is a popular backcountry peak just north of Ketchum and Sun Valley.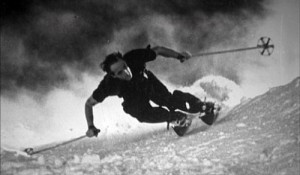 Durrance competed in the 1936 Winter Olympics finishing 8th in slalom, 11th in downhill, and 10th in the combined. He was also on the 1940 US Olympic Team, but those Olympics were cancelled due to World War II.
During World War II, Durrance helped train the 10th Mountain Division. Initially Durrance was trying to teach soldiers to ski, but eventually he and the government would realize that it would be more effective to teach skiers to fight!
Durrance wasn't just a ski racer. At Sun Valley he designed the trails on Baldy. He was the ski school director at Alta and managed the Alta Lodge during the early 1940s. This is where he tried to teach the soldiers to ski. Right after the war he helped design and open Arapahoe Basin ski area. In 1947 he became the Aspen ski area manager. At that time Aspen had one lift and three runs, but under Durrance's leadership it became a world class destination ski resort. After leaving Aspen Ski Company, he helped design and open Aspen Highlands. In 1960 he was the Chief of Race for the Squaw Valley Olympics.
Dick Durrance also made ski movies. While still at Dartmouth he made "Sun Valley Ski Chase", a parody of the "chase films" made by Dr. Arnold Fanck, generally recognized as the first ski movie maker. In all Durrance made 46 films that helped promote skiing in the United States.
Warren Miller perhaps best summarized Durrance's influence:
"No other person has ever dominated skiing in America as much, or as long, as this short man with the long skis who made molehills out of mountains."