Organized skiing in the United States began in the 1930s. Here in Stowe that was driven by Roland Palmedo and the Amateur Ski Club of New York. As I wrote last week, falling in those days was an integral part of skiing and inevitably some falls resulted in injury. As the number of skiers increased, Palmedo became very concerned about insuring their safety.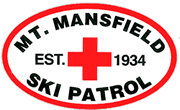 While skiing at Parsenne Switzerland, Palmedo was impressed with the Swiss Army Ski Rescue Unit that looked out for skier's safety. So when the Mount Mansfield Ski Club was incorporated on January 16, 1934, Palmedo made sure it included a committee responsible for the safety of its members. This was the start of the Mount Mansfield Ski Patrol, the oldest, still-operating ski patrol in the United States.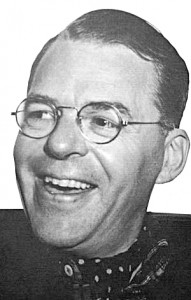 Charles Minot Dole whose friends called him "Minnie" was a New York insurance broker and member of the Amateur Ski Club of New York. On New Year's 1936 Dole, his friend Franklin Edson and their wives came to Stowe to ski. January 2nd was a drizzly day, but the two couples started up Toll Road anyway. As soon as they started down, Dole fell and broke his ankle. While there was a Mount Mansfield Ski Patrol, it did not include organized patrol activities to spot accidents. There were usually some volunteers around who, if notified, would help an injured party. The two wives set off to find some help.
It was literally hours before the women returned with a couple of volunteers and a piece of corrugated tin roofing to be used as a toboggan. The roofing was not long enough to support all of Dole's body so they used it to support the broken leg while Minnie dragged his butt in the snow. It was after dark before they got down to where he could be transported to the hospital.
Minnie Dole would be laid up for 15 weeks recovering from the break. During that time his friend Franklin Edson would enter the Quadrangle Downhill Race held on the Ghost and Shadow trails near Pittsfield, Massachusetts. Edson would go off the course and hit a tree suffering a broken arm, fractured ribs, and a punctured lung. Well-meaning volunteers helped him off the mountain and to the hospital, but Edson would die the following day from his injuries. He was 28 years old.
These two incidents would drive Minnie Dole's interest in improving safety for skiers both in terms of better response time to an injured skier and also better quality care for the injured.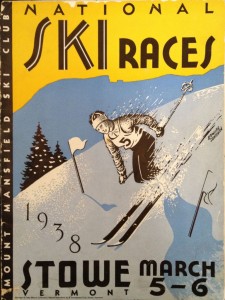 In March of 1938 Stowe was hosting the National Downhill and Slalom races. The Mount Mansfield Ski Club asked Minnie Dole to coordinate the safety efforts for the races along with the Mount Mansfield Ski Patrol. They developed a system of stations with toboggans and scheduled volunteers. President of the National Ski Association Roger Langley was so impressed with the system that he asked Dole to become chairman of a National Ski Patrol Committee. Dole said "sure" and according to Dole they sealed the deal with drink of Vat 69!
The National Ski Patrol started in 1938 with Roger Langley as Patrolman #1, Palmedo as #2, and Dole as #3. Despite being #3 Dole would become the head of the National Ski Patrol, a post he would hold until 1950. Today there are approximately 28,000 members of the National Ski Patrol serving over 650 patrols.