We're in the final days of the ski season here in Stowe and conditions couldn't be much better. When the area closes on April 19th there probably will be plenty of snow left on the trails. I'm sure there will be some people lobbying for the area to stay open, but an extended season is unlikely.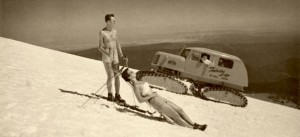 In the early RetroSki days, season ending dates were less predictable. That was before extensive snowmaking so Mother Nature played a big part both in terms of the amount of natural snow and the spring weather. That uncertainty made every sunny spring day more precious because it could be the last day of the season. You might cut classes or take a day off from work just to seize the day. But I guess that's still the same these days even when we may know the closing date.
Ski areas pushed the seasons more in those days. So what if a little walking was required to get to the lift or the next snow field. I recall a day at Mad River where to get to the bottom required at least two walks. Granted if you stayed above the single chair's mid-station, no walking was required. But eventually you would have to get to the bottom and there was no downloading.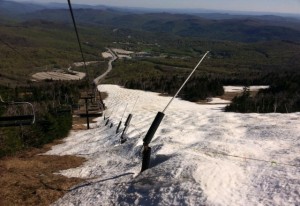 Killington was the first ski area to make the length of their ski season a marketing strength. They invested in snowmaking to be the first area to open in the autumn and the last to close in the spring. Their closing dates often went into June! Yes, they usually only had one trail left, but they were open for skiing. The latest closing date I found was June 22nd which occurred in 1997. It's interesting to see that the current Killington management is returning to the extended season strategy after several seasons of more standard closing dates. This season may offer them an opportunity to hit a June closing date for the first time since the 2001/2002 season.
Stowe may not have tried to compete with Killington, but it has always had a long season with closing dates well into April. But what was the latest closing date for Stowe? According to Mike Leach's history timeline on the Mount Mansfield Ski Club website, that would be May 2nd in 1983. Lyndall Heyer correctly recalled May 2nd as the latest closing date.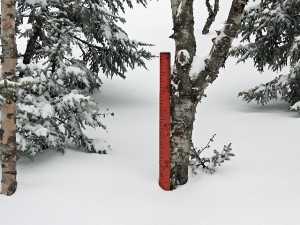 I was surprised that this occurred in 1983. My recollections of the early 1980s were that they were relatively low snow years. However a check of the historical data at the "stake" atop Mt Mansfield showed that we apparently got a lot of snow in April 1983. At the beginning of April the stake was just below 50 inches, but by mid-April it reached its season maximum of 80 inches. The data show that there were still 50 inches at the stake when the area closed!
Other ski areas in the west also compete for the latest closing date in a season. I'm excluding areas with a glacier such as Mount Hood in Oregon which support year-round skiing. Snowbird apparently competes with Colorado's A-Basin for the latest closing date in the Rockies. Both of these areas rely on natural snow to support their season unlike Killington. Both usually make it to June and sometimes even July! However this year both may have difficulty extending their seasons. The unusually warm western winter combined with less precipitation than normal has left unimpressive snow depths.
Last week we were at Snowbird and saw first-hand the relative lack of snow and warm weather. We had some good spring skiing, but literally day-to-day you could see more bare spots. Well, actually I should say more exposed rocks! Those unglaciated rocks can sure do a job on ski bottoms. Unless Snowbird gets some snow, they'll be lucky to make May.