Stein Eriksen was the first to popularize doing a flip on skis. Wherever Stein was the Director of Skiing, part of his contract was a weekly event for people to see him perform his flip.
However Stein never advanced his aerial maneuvers beyond his incredibly stylish, full layout front flip. He left it to others to explore new, gravity-defying aerials.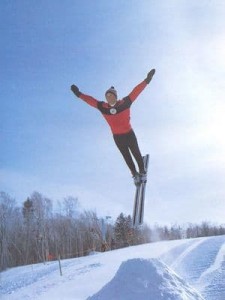 One of the people to pick up where Stein left off was Hermann Goellner. Goellner was born in Salzburg, Austria in 1943. He was a young ski racing prodigy winning an Austrian Junior National Championship in 1960. Injuries would curtail his own racing career, but he came to Killington as a coach in 1964.
Fooling around in Austria, Goellner learned to do a back flip on skis. So at Killington he worked on perfecting both back and front flips. He attracted the attention of another ski instructor at Killington, Tom LeRoy. The two began working together and also probably pushing each other to try new jumps. Killington featured regular exhibitions by the two to entertain skiing visitors. This included side-by-side flips with Goellner doing a back flip and LeRoy a front flip.
Killington was big on learn-to-ski weeks in the 1960s. The groups first met on Monday to be sorted into ability levels and assigned instructors. The line-up would culminate with "by the end of the week you'll be able to ski like this!" Then Goellner and LeRoy would come flipping into view.
LeRoy would be the first to perform a forward double, quickly matched by Goellner. Goellner would be the first to perform a triple. Goellner was also the first to perform what was labeled a "Moebius Flip" – a full-twisting front flip. Actually Goellner could do either a front or backward Moebius.
Goellner and LeRoy became part of the Hart Skis Demonstration Team joining Art Furrer, Roger Staub, and Corky Fowler. Their collective efforts were documented by Roger Brown and Barry Corbett in a series of ski movies.
In the 1968 "Ski the Outer Limits" LeRoy and Goellner perform flips into Corbett's Couloir at Jackson Hole. In those early days at Jackson Hole, very few ever dropped into Corbett's much less launched themselves into it. The 1970 movie was called "The Moebius Flip" and featured Goellner performing the Moebius.
Goellner and LeRoy became pioneers in the Freestyle movement of the 1970s. They particularly were influential in aerials becoming a separate event. I wonder what they think of the event they inspired now? It's become extremely specialized and in my opinion, closer to gymnastics or diving than skiing. A Moebius Flip today probably wouldn't even qualify as a competitive jump. Goellner, LeRoy, and others were skiers first and gymnasts second. They generally used full-length, all-around skis for their aerial adventures. The five-foot-six Goellner skied on 205s!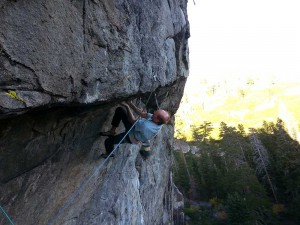 Hermann Goellner is now in his 70s, but still extremely fit. He is a world class climber who still tackles advanced climbs(5.10-5.12). He also can take credit for inventing and patenting the break-away slalom gate. Anyone watching the alpine World Championships and Mikaela Shiffrin over the past week saw a lot of these in action.