Alf Engen – The Old Man Of The Mountain – Powder segment from Howie Arnstad on Vimeo.
"I have always loved skiing and never had a bad day. Some may not have been as good as others, but nonetheless, I have never had a bad day."
Many of us have probably said something along those lines, but this specific quote came from a particularly authoritative source: Alf Engen.
Alf Engen was born in Norway, the oldest of three brothers. Growing up in Norway, Alf excelled at soccer, hockey, speed skating, cross country skiing, and ski jumping. When Alf's father passed away, Alf became the de facto head of the family.
In 1929 at the age of 20, Alf came to the United States to actually play professional soccer. Apparently there was some professional soccer in the U.S. back then.  However, Alf drew more attention with his ski jumping than he did with his soccer. He joined a group of mostly Norwegians who toured around the country putting on jumping exhibitions.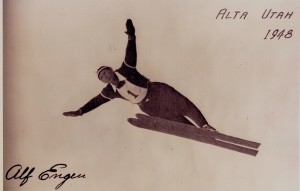 By 1931 Alf Engen had settled in Salt Lake City where over the next two years he would be joined by his two brothers Sverre and Kaare(Corey) and his mother Martha. Also in 1931 Alf began competing in ski jumping and cross country competitions. Alf would win the United States National Jumping title eight times between then and 1946. In the process of winning those titles, Alf set world record distances multiple times. He also won the combined jumping and cross country U.S. title twice.
Alf was selected to go to the 1936 Winter Olympics for the United States, but none other than Avery Brundage stepped in to block his participation. No, it wasn't because he was an immigrant (had to get that dig in.) Alf had appeared on a box of Wheaties so Brundage said that made Alf a professional. The fact was that Alf received no money for his appearance, but did receive lots of Wheaties. He said, "I think I gave everyone in Salt Lake City free Wheaties!"  Alf got some measure of revenge since in competitions following the Olympics he would beat both the Gold and Silver medalists.
Now most skiers associate Alf Engen with two things: Alta and powder skiing. Well, I'm getting to that.
In the early 1930s Alf was the foreman of a CCC crew whose mission was the reforestation of the Wasatch range in Utah. This led him to explore Little Cottonwood Canyon and recognize its advantageous location for snow and downhill skiing. Alf was instrumental in working with the National Forest Service to design and build the Alta ski area.
While undoubtedly Alf had done some downhill skiing at least on his cross country skis, he was not an accomplished downhill skier. But by 1938 Alf had become a good enough downhill skier to be hired as a ski instructor at Sun Valley. He also began competing in downhill and slalom races. In 1947 Alf was the United States National Champion in both downhill and slalom which were the only events contested in those days. While I didn't confirm this, I believe Alf Engen is the only person who won national titles in all four disciplines: cross country, jumping, downhill, and slalom.
Alf was named coach of the United States women's ski team for the 1948 Olympics. That was the Olympics where Gretchen Fraser won the first ever Gold medal for the United States in alpine skiing.
1948 was also the year Alf returned to Alta to head up the ski school, a position he would hold until his retirement in 1989. Teaching skiing was his passion. "Medals, who needs medals!….But to give a good lesson, that's what is important to me."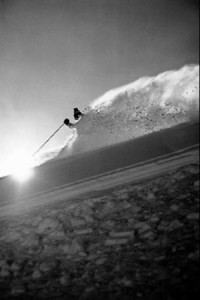 Alf Engen championed a new technique for skiing powder. Conventional wisdom had always been to keep the skis working independently and make wide sweeping turns. Alf believed that keeping the skis close together to act more like one surface provided more stability and allowed for shorter turns. Most RetroSkiers learned to ski powder in this manner.
Alf Engen was a bear of a man, but on skis in powder he was a light, graceful dancer. Seeing him disappear completely enveloped in snow only to reappear for the next turn inspired a generation of skiers to join in that dance. It also is why he is called "the Father of Powder Skiing."