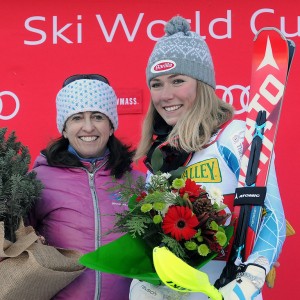 This past weekend Mikaela Shiffrin became the third American woman to win the overall FIS World Cup. Much has been made of Mikaela's youth since she just turned 22 last week. However the first American woman to win the overall was even younger! Tamara McKinney was 20 years old in 1983 when she won the overall World Cup.
Tom Hubbs was the first to identify Tamara McKinney as the first American woman World Cup winner. Well, actually Tom says the real credit should go to his friend Scott Cragle who had recently sent Tom an article from Powder magazine on Tamara!
Lyndall Heyer also identified Tamara and pointed out that Tamara's 20-year-old daughter, Francesca English, is now an aspiring ski racer.
Tamara McKinney was born in Lexington, Kentucky – not too many world-class alpine skiers come out of Kentucky! Her father owned and operated a horse farm there and was one of the best steeplechase jockeys in the United States. Her mother was an accomplished horse-woman, however she was also a ski instructor!
Tamara was the youngest of eight siblings, most of whom were accomplished skiers. By the time Tamara came along her mother was spending winters instructing at Squaw Valley. Tamara says she was almost on skis before she could walk. She would learn to ski at a young age primarily by following her older brothers and sisters around Squaw.
Before Tamara made her mark in alpine ski racing, her older siblings seemed destined for skiing fame. Steve McKinney made the U.S. Ski Team as a downhill racer before becoming better known as a speed skier. Steve would set seven world speed records and in 1978 was the first speed skier to break the 200km per hour barrier!
Tamara's older sister Sheila also made the U.S. Ski Team, but suffered a career-ending injury in a World Cup downhill – a downhill that Tamara had forerun!
Tamara was nine years old when she watched Barbara Ann Cochran win the gold medal at the 1972 Olympics. Since Barbara Ann was relatively small for a ski racer, Tamara really identified with her and it inspired her to become an alpine ski racer.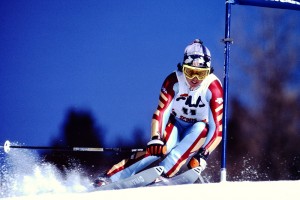 Tamara would make the U.S. Ski Team at the age of 15 and earn her first World Cup podium in Italy at 16. She competed in all events although her strengths were in slalom and giant slalom. In 1981 at the age of 18 she won the World Cup in the GS discipline and finished 6th in the overall. Then in 1983 she would score a trifecta winning the overall World Cup, the slalom World Cup, and the GS World Cup! 1983 was a good year for the United States since Phil Mahre won the overall World cup for the men.
Tamara was a three time Olympian, but did not win any medals. She had better luck at World Championships winning several medals. In the final season of her racing career she would win a gold in the combined event at the 1989 World Championships in Vail.
During Tamara's racing career, she suffered some losses that had little to do with skiing. Her father died in 1985 and her mother passed away in 1988. In 1990 right after Tamara had announced she was retiring from ski racing, her brother Steve was killed in an automobile accident.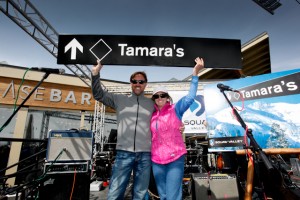 Tamara was a multi-talented athlete. She followed in her father and mother's footsteps to be an accomplished horse-woman. Somewhere along the way she became a pretty good figure skater as well. Today Tamara McKinney is a realtor in Squaw Valley. She still skis and does some coaching. And as pointed out earlier, she now roots for her daughter, Francesca, who is an aspiring ski racer.