The T-Bar was invented by Ernst Constam of Switzerland. Actually he invented the concept of an overhead circulating cable lift which started as a J-Bar. In Vermont we tend to give Fred Pabst of Bromley credit for inventing the J-Bar, but actually Pabst's design was based on photos of Constam's lift. By the late 1930s, Constam extended his concept to the T-Bar which could transport two skiers up the hill.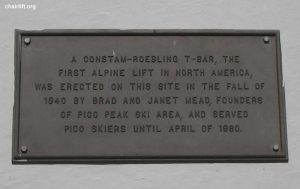 Brad and Janet Mead, founders of Pico, had seen T-Bars when they were in Europe. When they heard that Ernst Constam was interested in coming to the United States, they made sure Pico would have the first U.S. T-Bar. Constam himself oversaw the installation and it began operation in January 1941.  At the time it was the highest capacity lift in North America!
I also heard from regular contributor Gary Tomlinson who mentioned that the first surface lift in the United States was the rope tow on Gilbert's Hill in Woodstock. By the way, Gary is at Fernie, British Columbia. He says the skiing is great there and the Epic Pass is good for 7 days at Fernie!
Most RetroSkiers began their skiing careers on some kind of surface lift. However now several generations of skiers have come along that never had the "pleasure" of riding an old-style surface lift. No, magic carpets don't count!
So as a public service to those who never rode one, let me first show you how to use a rope tow.
Since our rope tow loads from the left, your right hand will be the lead hand so put both pole straps on your left hand.  Good! Now step up to the rope.

Let the rope slip through your right hand, but don't….

Here, let me help you get your skis back on.  Yeah, don't just grab the rope.  Let's try again.

This time let the rope slip through your right hand and gradually tighten your grip much like using a clutch on a standard shift.

Here, let me help you get your skis back on.  Don't drive standard shifts much down there in New Jersey, eh?  Let's try again.

Once you've got the right hand grip and start moving with the rope, reach behind you with the left hand and grab the rope.

Here, let me help you get your skis back on.  Yeah, you can't let go with the right hand, but look how far we got this time.  Let's try again.

Good job!  Now stay in the track!

Here, let me help you get your skis back on.  You may want to tighten those bindings until we get this mastered!  Yeah, those ruts in the track do get very deep and bumpy!
I'll stop here, but getting off the rope tow also presented challenges!
So now let's try your first T-bar ride.
This is much easier than a rope tow. The lift operator will hand you the bar, you position the cross bar just below your butt and let it pull you up the mountain.  Just remember that you don't sit on the cross bar, you let it pull you!  So you're ready, put your poles in your outside hand, step out, get the bar from the lift operator, ….. Great you've got it!

Here, let me help you get your skis back on.  I did mention about not sitting on the bar, didn't I?  Let's try again and this time I'll ride up with you.

See that wasn't bad.  You got it on the second try!  Yeah, I don't know why they don't have these on the beginner slopes either.

We're getting near the top and I'll get the bar.  That means you just ski away from the lift and I will take care of releasing the T-bar.  Here we are so get off.  Now….Now….NOW!

Once I get my skis back on I'll help you with yours.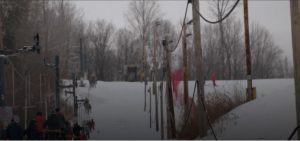 All right, you're ready to try your first rope tow or T-Bar. Back in 1968 it was easy to still find surface lifts, but now there aren't too many around. One place that still provides the retro experience that drew so many of us to skiing is Cochran's! Watch the kids ride the T-Bar or rope tow and enjoy lap after lap of skiing. And now I'm old enough to ski there for free!