While Ruthie's Run was one of the better known Aspen trails in 1969, there were a couple of other trails that I remember better. There was the Face of Bell, a steep treed slope. I stood at the top of that slope after a snowfall and wondered if I was good enough to ski it. Today that slope wouldn't even cause me to pause, but back then it really got my heart rate up.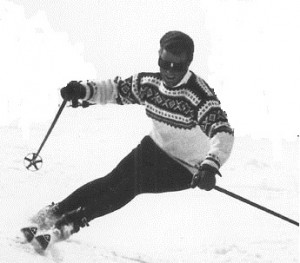 Another memorable trail was Spar Gulch, a broad gully that could act like a poor man's half pipe. Many pictures of Stein Eriksen from that era showed him counter-rotated with his butt defying gravity on the inside of a turn. Some of those were taken in Spar Gulch. If you swooped from side to side on the trail, you could try to "ski like Stein!" Having said that, at the end of the ski day Spar Gulch was a busy route back to the village. Most of those skiers were not trying to ski like Stein so they were skiing down the bottom of the gully. That led to some close calls with those of us who were swooping from side to side!
Speaking of Stein Eriksen, we did ski a day at Snowmass where Stein was the ski school director. He had gone to Snowmass after his stint at Sugarbush. Snowmass was brand new in 1969 and not that spectacular from a skiing point of view. Today it's the largest of the Aspen areas. But with Stein there, even the ski school line-up was a spectacle. The instructors in color-coded parkas based on the level they taught, lined up with military precision. Stein in his white parka and no hat oversaw the parsing of students into their respective classes. At the end of the day, Stein and a hand-picked set of instructors would gather on Sam's Knob and anyone who wanted could join them for a run. That is, anyone who didn't mind skiing fifty miles an hour, nonstop to the bottom! Even his instructors had trouble keeping up.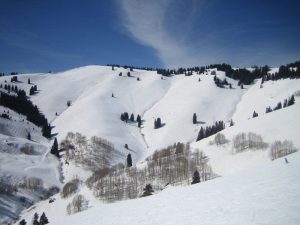 We also drove over to Vail for a day. Back in 2012 I wrote about that first experience at Vail. We had given a young fellow, Paul, a ride from the Denver airport to Vail where he worked at the Christiania Lodge and as a part time instructor. He invited us to come over on his day off and he'd show us around. I doubt he thought we'd ever show up, but we did! And he was a man of his word. He gave us a fantastic tour of Vail including the Back Bowls where there was still some powder left more than a day after it snowed! (That's something you won't find today!)
Today as you drive I-70 through the megalopolis that is the Vail/Beaver Creek area, it is difficult to picture Vail the way it was in 1969. We could actually drive on Bridge Street right up to the Christiania!
So why is Vail called Vail? I had received no answers as of my deadline for this week's column. I was surprised to come across the derivation recently myself. The short answer would be that Vail is named after Vail Pass, but the long answer is far more intriguing. The pass got its name from Charles Vail who was the highway engineer that routed U.S. Route 6 through the pass in 1940. Of course that is now the route followed by I-70. Pete Seibert chose to adopt that name for the ski area he opened in 1962.
I found it interesting that the International collection of Vail Resorts is eponymous for a highway engineer!