This year's FIS Alpine World Cup Finals are this week in Andorra, wherever that is?. Mikaela Shiffrin took a lot of the drama out of the weekend by wrapping up her third consecutive overall World Cup in advance of the finals. About the only suspense for Mikaela this weekend is to clinch the GS World Cup which she has announced she wants. She has a significant lead and barring an uncharacteristic finish in the final GS, she should achieve that goal.
Her situation is not unlike the situation Karl Schranz found himself in 50 years ago as he went to the 1969 World Cup finals having already clinched the overall World Cup. So where were those finals in March of 1969?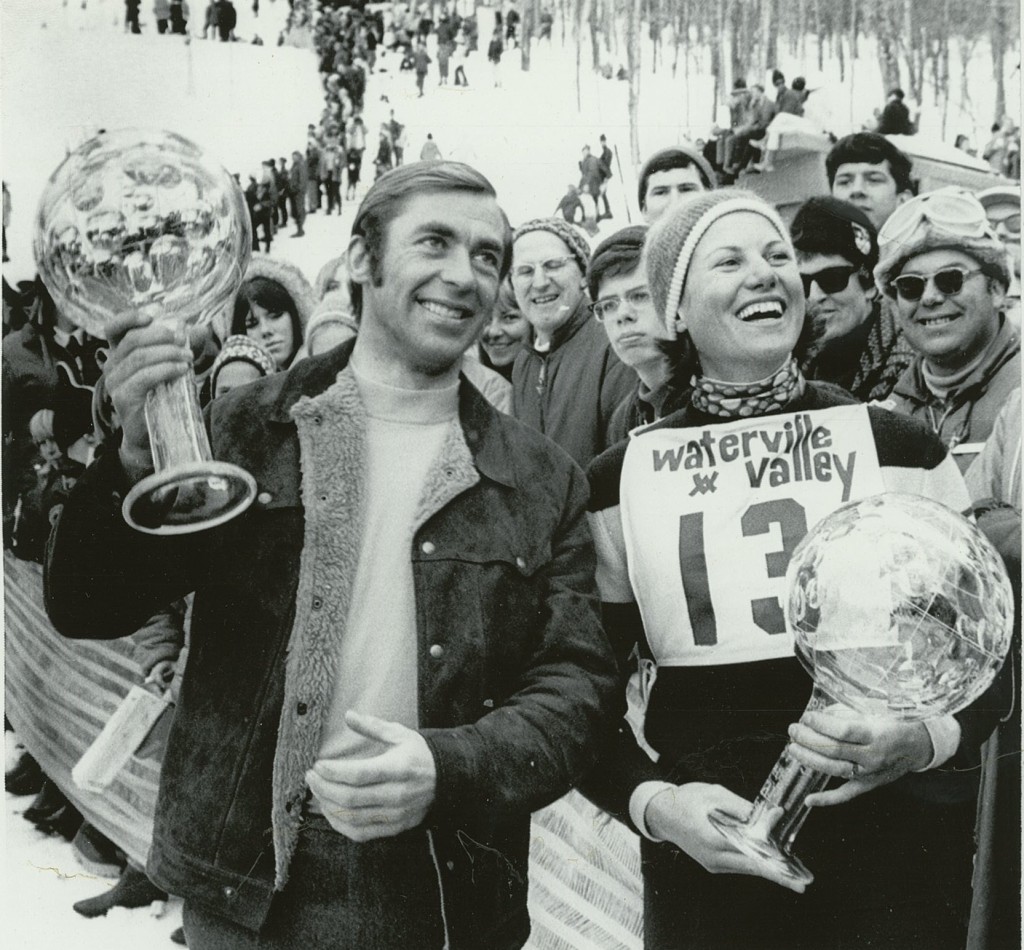 They were held at Waterville Valley in New Hampshire!
Waterville Valley opened for my junior year in college (1966-67). Actually, there had been a small ski area there before that, but Tom Corcoran who had previously managed Aspen saw its potential and developed a major ski resort. Everything was new so it became a favorite place for us college students to ski.
Tom Corcoran had been an international ski racer for the United States so right from the beginning he made sure Waterville Valley supported racing. They hosted many ski races of regional, national, and even international stature. That meant they needed gate keepers regularly and relied on college students like me to meet the need in exchange for free skiing.
So in the winter of 1968-69 I was no longer in college, but working at IBM. When I found out the World Cup finals were going to be in Waterville Valley, I had my friends who were still in college sign me up to gate tend. There was one complication since I had burned a lot of my 10 vacation days on the ski trip to Aspen and Vail. No problem, I just called in sick when the day came. Hopefully my first manager at IBM doesn't read this column!
I helped with the men's GS and slalom. It was great to see the big names of the day up close and personal. In fact, I got coached on how to rake the rut on my slalom gate by none other than Billy Kidd.
One of my long-time skiing buddies, Glen Findholt, was also gate tending that weekend. He had a less constructive interaction with the overall World Cup winner, Karl Schranz. In Glen's own words:
"Karl's teammate Alfred Matt hooked a tip in one of my gates, went down hard and broke his leg badly. I called uphill for them to stop the race but Schranzi had already been started. When he reached my gate and skied out of the course he was pissed and showing no concern for his teammate who was writhing in pain, he took out his anger on me, yelling in German into my astounded face. Ski patrol and race officials arrived and got the situation under control but Karl insisted on a rerun even though he already held a commanding lead for the overall title. We were on the hill until dusk so he could take his last run of the season."
The American women did very well at Waterville that weekend. Kiki Cutter won the slalom with Judy Nagel finishing third. Marilyn Cochran and Karen Budge tied for second in the GS. Marilyn actually won the GS discipline for that season however they didn't give out crystal globes to the discipline winners like they do today.
As mentioned, the men's overall World Cup went to Karl Schranz. The women's overall was decided at the finals in Waterville Valley. Twenty year old Gertrud Gabl of Austria and daughter of long-time Stowe ski instructor Pepi Gabl had a lead for the overall with only one competitor who could possibly overtake her, Wiltrud Drexel. If Drexel could win the slalom at Waterville, she could beat out Gabl. Gabl helped Drexel out by DSQing in the Waterville slalom, but Drexel finished well down in the results giving the cup to Gabl.
By the way, the 1969 World Cup globe that was presented to Karl Schranz at Waterville is still on display at the Vermont Ski and Snowboard Museum. You may remember the circuitous story of how that cup ended up in a Hinesburg barn!!