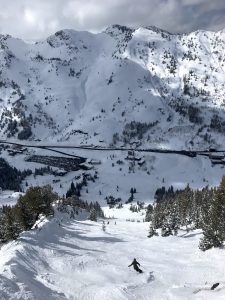 First, some follow-up on a topic I wrote about a few weeks back. I had recounted our experience in Utah during January and February with traffic-related problems. On April 15th Michael Maughan, President and General Manager of the Alta Ski Area, issued a post on the Alta blog entitled "Little Cottonwood Canyon Traffic Solutions."
In that article he says:
"From our perspective, we have had more traffic congestion and delays in the canyon this season than in the past 30 years and they have magnified in intensity. … Given the expected growth of the population in the Salt Lake Valley, the growing popularity of multi-resort pass products and the continual growth of tourism in Utah, I believe that we are at a tipping point and need to make significant improvements."
His main point was to make people aware that the Utah Department of Transportation is accepting public comments on proposed solutions to the canyon congestion and Maughan was encouraging people to input their opinions. (See entire Alta blog post.)
We complain a lot during the ski season about our traffic/parking problems here in Stowe, but our problems are far less than those in the Utah canyons. However in both cases the solutions will involve actions from the resorts, the government, and the individual. In other words, we can't look solely to the resort or state for a solution. We may have to modify some of our habits also.
Enough about traffic and parking! This season was a great snow year. For a while it was on a record pace to challenge the 1968-69 season. As you're probably tired of hearing, that winter was my first in Vermont.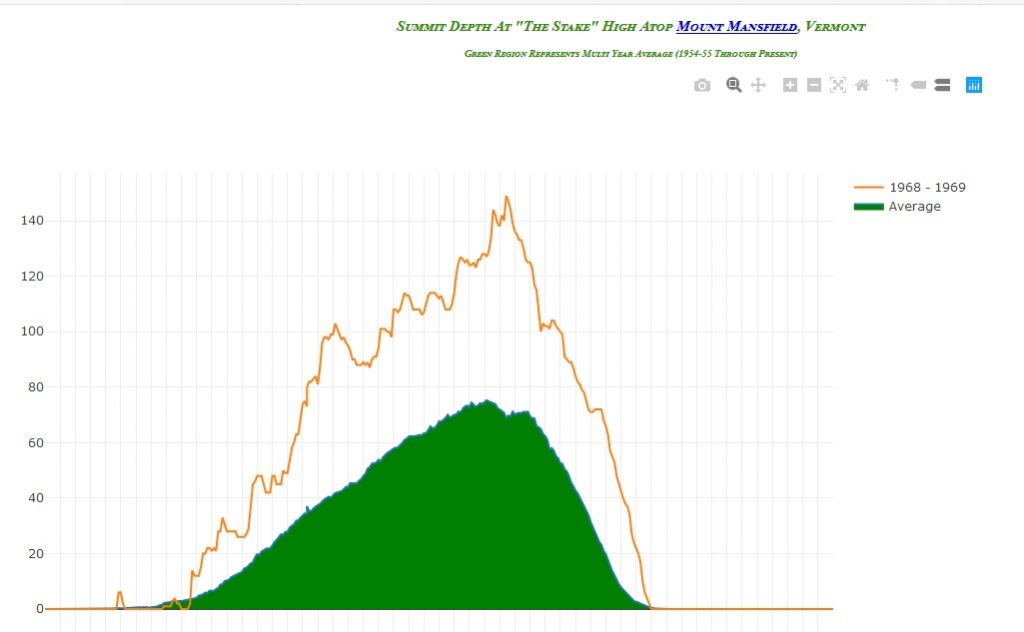 The winter of 1968-69 started early and just kept getting better.  The first major snowstorm was on November 7-8 allowing ski areas to open early.  This was before any Northern Vermont ski area had significant snowmaking so it was all Mother Nature!  Even though I was a working man, I had 6 days of skiing before Thanksgiving!
Mount Mansfield received 60 inches of snow in November 1968 and followed it with 72 inches in December.  There was a thaw near the end of January that lowered the amount at the stake, but after that it kept going up. The record depth of 149 inches was set on April 2, 1969.
As good as the winter of 1968-69 was here in Vermont, it was even better in New Hampshire – the state I moved from to be in Vermont!  A big storm from February 24-28 set records around New England, but really nailed New Hampshire.  Mount Washington received a record 97.8 inches during that storm! By the end of the 1968-69 season Mount Washington set its all-time snowfall record with 566 inches.  Of course all that snow blew right into Tuckerman Ravine where skiing continued well into July! I skied the ravine on the 4th of July that year!
So how much snowfall did we get this season? The Stowe Mountain Resort page says 308 inches which is quite comparable to the 1968-69 total of 317 inches. However we only need to go over the ridge to Smugglers Notch who reported 370 inches. And of course Jay reported 405 inches (some things never change!)
I was really rooting for this winter to break the record depth at the stake. That may seem strange, but I wanted to believe that even after 50 years, it was possible to have a record-setting, old-fashioned, natural snow winter. Then there might be somebody 50 years from now writing about their first winter at Stowe that set the record!
This brings to a close another RetroSki season. Many thanks to all my readers and particularly those who answered trivia questions. You keep me going!
I've read somewhere that real friends are the people you may not see for years, but when you do see them, it's like you've never been apart. Fifty years have shown me that skiing makes for real friends! I'm going to finish with something they may not be interesting reading, but I feel compelled to do it. Here's a list of the friends I skied with 50 or more years ago. Some no longer ski, some have passed away(*), and some I still ski with:
Frank Kinslow, Roger Mason, Bobby Andrews, Paul Pelton, Clark Marshall, Glen Findholt, Mike Weisel, Pat Weisel, Bob MacEwen, Clint Demeritt, Dick Jonis, Jerry Gates, Bob Penniman, Pat Ostrowski, Lucy Ostrowski, John Fox*, Ken Hildick*