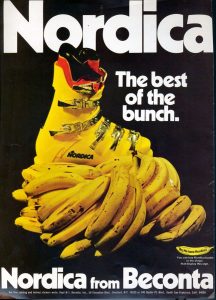 The "yellow banana" was actually the Astral Slalom model which was introduced in 1972. Its bright yellow color caught people's eye and, of course, generated the nickname that people still recall. Nordica smartly picked up on the nickname and used it in their advertising campaign. But there was more to the boot than just a pretty face. It was a performance boot that racers at all levels appreciated, but also became popular with recreational skiers. As a result, Nordica would sell over 400,000 Astral Slaloms which set a record for a specific ski boot model that may still stand today!
The boot was designed by Sven Coomer and featured a leather removable liner with a high, two-piece plastic shell wrapped around it and five buckles for closure. In other words, it was the same design a majority of alpine ski boots still follow today. Although today we've been able to reduce the number of buckles.
I had a pair of the Astral Slaloms and loved them. They came up higher than any previous boots I owned and had more built-in forward lean. The combination made them difficult to walk in, but definitely helped my skiing! And as I recall, they produced less shin bang than other ski boots. (Original Lange owners remember the term "Lange Bang" that described this.)
Nordica was founded in 1939 by brothers Adriano and Oddone Vaccari in Montelluna, Italy. Initially they made high quality leather footware for general use. However after World War II in response to the increased popularity of skiing, they began making hand-stitched leather ski boots.
I had to get this column into 2019 so I could point out Nordica is celebrating 80 years as a company, most of it making ski boots. As we know, the company has expanded to include skis and some soft goods as well.
When Nordica started making ski boots they consulted with Italy's star alpine racer Zeno Colo. Colo would help design performance into their ski boots. Colo won two golds and a silver at the 1950 World Championships held at Aspen on his Nordicas. Colo would also win gold in the downhill at the 1952 Oslo Olympics. Colo's success put Nordica on the world map as a ski boot for the serious skier.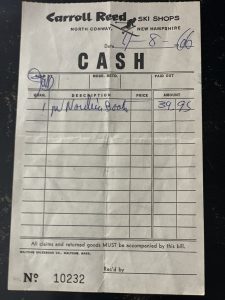 Through the years Nordica was quick to adopt ski boot technology innovations. In 1960 they put out their first buckle boot. My first buckle ski boots were Nordicas which I bought in April of 1966 at the Carroll Reed Ski Shop in North Conway, New Hampshire. I paid $39.95 for them. Before you compliment me on my memory, I found the receipt while cleaning out my parent's old house in New Hampshire this summer.
Of course they were leather buckle boots so I had to break them in. I went to Wildcat for a spring skiing day with buddies. At noon, when we went in for lunch, my feet were throbbing so much I took my boots off. To get back into my boots I ended up taking my ski socks off and skiing in bare feet!
Nordica started producing plastic boots in 1966 which ultimately lead to their success with the "banana" boot. By 1974 Nordica would capture 30% of the ski boot worldwide market.
Since then they have continued to produce successful performance-oriented ski boots. In the 1990s racers on their Grand Prix model would win more than 8 Olympic gold medals. Bode Miller and other racers in the 2000s had success on Nordica Dobermanns.
Nordica began marketing a line of skis under its name in 2000. In effect they were the former Kastle skis after Kastle had gone out of the ski business in 1999. Nordica has expanded their ski line to produce a spectrum of skis from racing to freeride.
So happy 80th to Nordica!