I attended my first ski show when I was in college.  It was a slow, late-fall weekend when a fraternity brother said let's go to the Boston Ski Show.  I had no idea what a ski show was, but it sounded better than studying!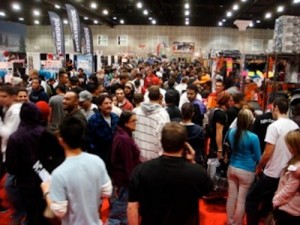 As I recall, the show was in the convention hall at the Prudential Center.  Inside I was amazed at the number of exhibitors.  There were equipment reps pitching the newest gear, gear that I could only dream about.  There were booths from ski areas all over the country.  There were travel agency booths pushing trips to exotic ski destinations in Europe and the U.S.  There were real estate booths featuring deals on ski properties.  There was a large ski deck where teams of skiers put on shows at regular intervals.  There were curtained-off theaters showing the latest ski movies.  There was a fashion show.  In short, everything related to skiing was there somewhere!
And of course there was lots of free stuff being handed out: brochures, discount coupons, posters, stickers.  You could easily get loaded down with all the available goodies.
The ski show really got me psyched for the season.  And somehow seeing thousands of others who shared your passion for the sport was particularly energizing.  I was hooked and would come back in subsequent years to get my fix, even after I moved to Vermont.
So who came up with the idea of a ski show?  Harry Leonard was a newspaper ad representative in Chicago who began skiing at age 30 at Pine Mountain in Michigan's Upper Peninsula.  Despite his late start as a skier, he became a devotee and used his newspaper experience to produce the first directory of mid-west ski areas.  As a result the Chicago Ski Council asked Leonard to coordinate their annual preseason ski party.  Traditionally this had been just a party, but Leonard saw that it could be a lot more.  He arranged for exhibitors and demonstrations and the first consumer ski show was born.  That first one was held in Chicago in 1958 and Leonard called it the Ski Fair.  The Fair was attended by over 2000 people and notably it introduced Stein Eriksen to the mid-west since he had just taken a position at Boyne Mountain.
The following year, Leonard held ski shows in Chicago and Detroit.   In 1960 New York was added and within a few years, ski shows had spread to major cities from coast to coast.
Harry Leonard wanted the ski show to capture as many aspects of the skiing experience as possible.  He featured the major skiing personalities of the day.  When the ski deck was first introduced, he incorporated it into the shows.  Then people could actually see skiing as part of the show. As freestyle became popular, the deck provided a showcase for the new stars of skiing.  Leonard also included beer gardens and entertainment for some après-ski atmosphere.
Harry Leonard's ski shows helped fuel the growth of skiing during the 1960's and 70's.  Today they still remain an important part of promoting winter sports and psyching up skiers and riders for a new season.  In recognition of his contributions Harry Leonard was inducted into the U.S. Ski and Snowboard Hall of Fame this past April.
Leonard's blueprint is still followed in today's ski and snowboard shows.  This includes another practice that Leonard introduced.  He involved local media, particularly newspapers, in promoting the event.  Newspapers would include a section that acted as a program for the ski show plus featured skiing-related articles that further psyched skiers for the upcoming season.
The Boston Globe included such a section for the recent Ski and Snowboard Expo held in Boston.  One of the articles entitled "World-class ski towns in our own backyard" highlighted North Conway, N.H., and Stowe.  My life in review!  There was also a skiing trivia question article.  Many of the questions have appeared in this column in the past, but there were a couple of new ones that I may have to "borrow."