I'll start this week with a couple of follow-up items from last week's column.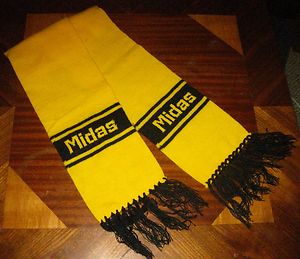 The Stowe Winter Carnival freestyle event held in 1975 was sponsored by Midas and Colgate.  Actually the men's tour was sponsored by Midas and the women's tour by Colgate.  As part of their promotional gear, Midas gave away scarves aptly named "Midas Mufflers."  Cheryl Brayman who contributed to last week's column still has her Midas Muffler scarf!
It turns out Cheryl just missed qualifying for the mogul competition at that Stowe event.  She competed in a qualifier event at Glen Ellen and finished third behind Robin Morning and Rosie Fortna.  Only the top two qualified, but Cheryl was picked to be a forerunner for Stowe.  However, as I mentioned last week, the event was held on a very cold day and Cheryl missed her forerunning slot because she was in the Octagon staying warm!
The main subject of last week's column, Wayne Wong, is associated with Anton Active Suspension skis. Their skis feature a rather unique design.  On Saturday while hosting at Stowe I spotted a pair of Anton skis.  The owner of the skis turned out to be Curtis Fong, a journalist/radio commentator from the Lake Tahoe region and a personal friend of Wayne Wong! Skiing can be a small world.
A by-product of hot dog skiing in the mid-1970s was the first short ski era.  But before I talk about short skis, I need to set the stage.
Skiing's popularity exploded during the 1950's and 1960's.  However even with the advancements in ski technology, ski lengths didn't change all that much.  Longer was better!  In typical macho fashion your ability was judged in part by the length of your skis.  205's, 207's, 210's, and even 215's were very common lengths.  There were the usual rationales that you needed the length for stability at speed or to hold on ice, but a lot of it was just peer pressure.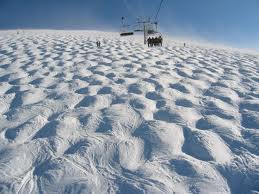 The growth in skiing popularity also meant ski areas and ski trails were seeing a lot more skier traffic.  Grooming was primitive and almost non-existent at most areas.  That meant the appearance of more and more of the dreaded moguls.  They were (and still are) the measure of an expert skier.  You either love them or avoid them.
Last week's question concerned the origin of that term "mogul".  Greg Dirmaier provided what I believe is the correct answer that the word derives from the German Mugel or Mugl meaning small hill.  Some dictionaries trace the origin to old Scandinavian, but I think the term did not become part of our vernacular until the 1940s or later when the Austrian/German influence on skiing was at its peak.
Back to the freestylers of the 1970's.  They began to ski on shorter skis.  Short skis appeared first in ballet and aerials where they made more tricks possible, but then also in the moguls.  Ski manufacturers began providing specialized skis designed for the freestyle events.  The most memorable skis were K2 Bermuda Shorts strictly because of their name.   Consumers began to buy shorter skis.  The old length mystique was broken.
Now I should point out that the short skis of the 1970's were completely different than today's short skis.  For the most part they were just shorter lengths of the same technology used in longer skis. But they did allow more skiers to get out and challenge the bumps.  Or screw up the bumps as many of us thought.
The shorter skis meant smaller, closer together moguls.  Plus the increase in less-experienced mogul skiers meant more irregular lines.  Those of us still skiing on 210's suddenly had a hard time navigating through our favorite mogul fields.  This resulted in the "Short Skis Suck!" backlash.  For many years Ken Strong had one of those bumper stickers in the rafters of the Shed.
By the end of the 1970's the short ski trend had faded.  But ski lengths would not return to the old days.  180's and 190's were popular and even I was skiing on 200cm skis which were the shortest I had owned since grade school!  Today I ski on 168cm skis which provide the same performance characteristics as my old 200's thanks to good engineering that understands what makes a ski work.