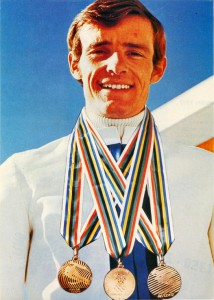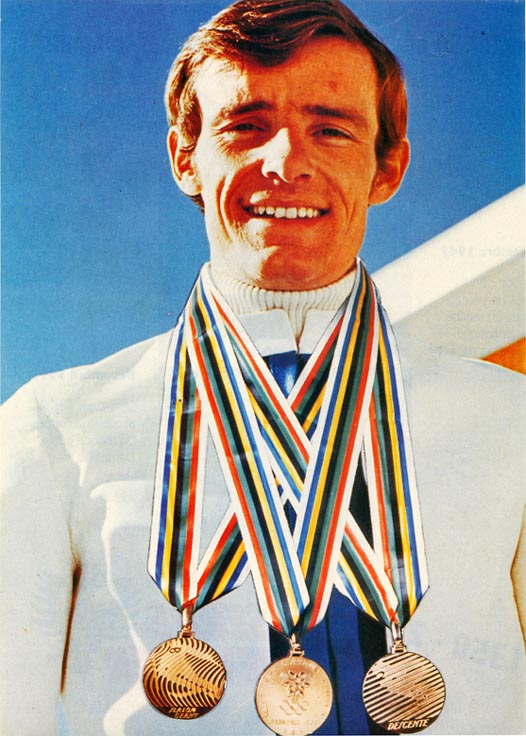 There goes my PG rating and yes, I probably have watched too much Entertainment Tonight!  So why should we care?  As some unknown marketing guru said "sex sells."  Skiing sex symbols help sell skiing!
Picking the greatest is a subjective process so everyone has the right to their own opinion. However in this case I believe most skiers born before 1980 would agree on one name: Jean Claude Killy!
Jean Claude Killy combined Gallic charm and looks, a touch of "bad boy", a lot of confidence, and a huge amount of skiing ability to be skiing's first global sex symbol.  It was the 1960's: skiing's popularity was growing and TV was able to bring the sport right into living rooms around the world.  All that was needed was a star to emerge and that star was Killy.  Even people who would never get near a ski area knew his name.
Jean Claude Killy grew up in Val-d'Isère France where his father ran a ski shop.   As a youth Killy loved skiing and ski racing.  He had a go-for-broke style: if he finished the race, he usually won!  But there were more races he didn't finish than races he did.   As much as Killy loved skiing, he hated school. When Killy was 15 his father saw that trying to keep him in school was hopeless and let him drop out.
French national team coach Honore Bonnet spotted the young Killy and liked what he saw.  He named Killy to the French team at age 17.  Killy never finished a race during that first season on the international circuit, but Bonnet was patient, reminding Killy that to win a race he'd have to figure out how to finish one!
Killy won his first international race the following year in December 1961 at age 18.  That season would be cut short by injury, but even this helped build his reputation.  Killy broke his leg in a downhill at Cortina falling spectacularly 200 meters from the finish.  He finished on one ski and still recorded the fastest time of the day!
The 1966-67 season marked the debut of Serge Lang's World Cup which would be awarded to the best all-around skier for the season.  Killy won the cup by winning 23 out of 30 races that season including all five downhills!  He had definitely learned how to finish.
The 1967-68 season brought the added pressure of the Olympics particularly since they were being held in Killy's home country.  Anything but three gold medals would be considered a failure.  Somehow Killy did it (although Karl Schranz is still out there in the fog somewhere claiming that he won the slalom!)  Only Toni Sailer had ever won all three Olympic events and it's hard to believe that he faced the same pressure Killy did to accomplish the feat.  Killy's legend was assured.  And, oh yeah, he also won the World Cup that year as well.
Even though he was only 24, Killy knew this was the time to retire and cash in on his success.  He returned to his home of Val-d'Isère hoping the local office of tourism would pay him to be their representative.  They said no!  So enter Mark McCormack, international sports marketer.
Killy signed with McCormack and suddenly the Killy name was everywhere.  Head skis produced a Killy model.  Killy was a spokesman for Schwinn bikes and Chevrolet.  He starred in two U.S. network TV series:  The Killy Style and The Killy Challenge.
The Killy Style featured Killy visiting a different ski area each week.  The Killy Challenge had Killy racing against celebrities who received a substantial handicap.  I don't remember the former, but I do remember The Killy Challenge.  It was on late Sunday afternoons so we often watched it at our favorite après ski spots on the way home from skiing.
While no one identified Jean Claude Killy as the skiing star of two TV series, Raphael Martone did point out that Jonny Moseley has hosted a couple of shows plus appeared in others.  Moseley hosted MTV's Real World/Road Rules Challenge for three seasons and now hosts American Ninja Warrior on G4 and NBC.  So there was more than one correct answer for last week's trivia question.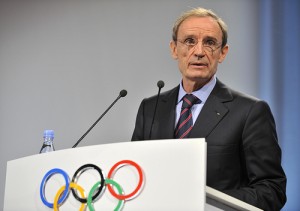 Back to Jean Claude Killy and my original premise.  The marketing of Killy was based not just on his skiing, but his sex appeal.  Women wanted to be with him; men wanted to be him.  It was rumored that part of Killy's contract with McCormack kept Killy from marrying until a certain date.  Whatever the details, Killy became a wealthy, successful business man.
Jean Claude Killy is still revered in France even though he now lives in Switzerland.  Ironically the Val-d'Isère/Tignes area which wouldn't pay Killy in 1968 is now named l'Espace Killy in his honor.  Today Killy serves as Chairman of the IOC Coordination Committee which is assuring the success of the upcoming 2014 Sochi Winter Olympics.