This week I received a Spider Sabich story from Reid Williams of Stowe that exemplifies the appeal Spider generated.  Reid was in Aspen in 1972 when the World Pro Tour wrapped up its season there.  He was at the ceremony where the overall season trophy was presented to Spider Sabich.  Reid says:
"After the presentation, Spider got the mic and thanked all the appropriate sponsors, etc.   However he didn't stop there. With Claudine Longet at his side, he thanked all his loyal fans and all the lovely ladies that had so lavishly congratulated him on his victory.  With that, he reached into his parka pockets and produced enough hotel room keys, with the young ladies names on them, that they filled both hands! …..  he turned his back on the crowd and tossed all the keys, with women's names on them, into the crowd. I suspect that gesture produced some uninvited 'guests' that evening."
Reid maintains that he did not catch any of the keys!
As I said in last week's column there are several versions of how Spider Sabich was shot.  Claudine Longet's  initial statement to the police said that she was playfully pointing the gun at Spider when it accidentally fired.  Later at trial she would claim that Spider was showing her how the gun worked when it went off.  The police felt the evidence wasn't consistent with an accident and charged Claudine with manslaughter.
The trial would be one of those celebrity events that we have become used to, but in 1976 it was not as common.  It actually started the night of the shooting when Andy Williams flew into Aspen to come to the aid of his ex-wife.  Their divorce had been final in 1975.  Williams would remain very visible throughout the trial escorting Claudine to the court house daily.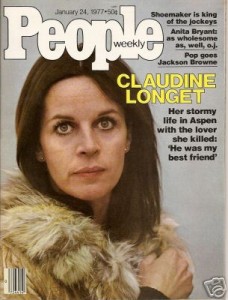 Longet's defense team consisted of a high-priced Los Angeles lawyer plus Ron Austin, a local Aspen lawyer.  They were able to get some key prosecution evidence thrown out because of improper police procedure.  Part of the suppressed evidence involved proof that Spider and Longet's relationship was on the rocks so from that point on the defense portrayed them as still a loving couple.  The defense also brought in experts to testify that the condition of the gun could have resulted in an accidental discharge.
After four days of testimony the case was turned over to the jury.  It took the jury under four hours to return a verdict of guilty on a lesser charge of criminally negligent homicide, a misdemeanor.  That charge carried a maximum fine of $5000 and up to 2 years in jail; however the judge fined Longet $250 and sentenced her to 30 days in jail.  Since she was the mother of three children, the judge allowed her to serve the sentence at a "time of her choosing."
The "time of her choosing" was delayed awhile as Claudine took off for a Mexican getaway with her Aspen lawyer, Ron Austin, who left his wife and family to be with her!
The Sabich family was outraged at the verdict and sentence.  They filed a wrongful death suit against Claudine Longet.  The suit was dropped after Longet signed a confidentiality agreement that prevented her from ever discussing the case.
Ron Austin and Claudine Longet were married in 1985 and still live in Aspen today.
As would befit this tale, the Rolling Stones had the last word.  In 1980 Mick Jagger and Keith Richards wrote a song called "Claudine" which was planned to be part of their Emotional Rescue album.  However it was deemed too controversial and was dropped from the album.  Bootleg copies did leak out and in 2011 the Stones added the song to the reissue of their Some Girls album.
Last week's trivia question asked when the World Pro Tour had visited Stowe.  I want to thank Mike Leach, MMSC coach and historian, for digging through old newsletters to locate information about the Stowe events.  Bob Beattie's World Pro Tour actually visited Stowe three times as part of the Winter Carnival: January 1978, January 1980, and January 1981.  Holly Rainville correctly identified 1978 as one of their visits.
I attended the races in 1978 which consisted of slalom and a downhill.  That's right, a downhill which was held on Big Spruce.  For that the pros didn't use the dual format, but two timed runs.  I don't remember the results, but now that I know the exact dates thanks to Mike Leach, I plan to dig them out from old Stowe Reporters.