It sounds like a familiar story: a former WWI Austrian military officer who fled the Nazis and came to live in Stowe.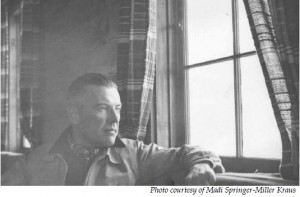 Frank Springer-Miller arrived in New York City in the 1920s and got a job as a graphics artist for a major ad agency.  While in New York, he would also meet his wife Louise who was another German émigré.  They would have two children, Fred and Madi.
Like other transplanted Europeans from alpine regions, the family loved to come to Vermont, particularly Stowe, for hiking and skiing since it reminded them of their homes.  Eventually the Springer-Millers bought a farm house on the Mountain Road and moved to Stowe.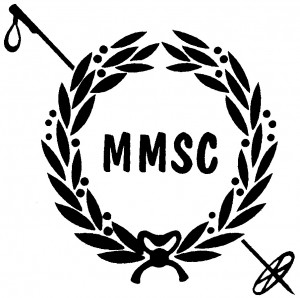 Frank Springer-Miller became very involved in the Mount Mansfield Ski Club.  His efforts helped promote membership growth, establish the coaching program for kids, and raise funds.  And, of course, he designed the current MMSC logo.  Actually his original logo included a ski pole which was dropped in the 2002/2003 season as the club became more inclusive.
Appropriately, Mike Leach, historian of the MMSC, had the correct answer for last week's trivia question.  Mike also pointed out that the logo was the result of a 1950 contest that was suggested to the club by Frank Springer-Miller and then won by Frank Springer-Miller!
Mike Leach has pulled together "Frank Springer-Miller: A Man of Ideas", a collection of Frank's articles for the MMSC newsletter from 1950 to 1968.  The scope of these articles is impressive.  On technique he was suspicious of any new approach that eliminated the stem turn, but in the end he was won over by the wedeln.  He wrote travel articles describing destinations in Europe and the American west.  He wrote equipment articles on topics from release bindings to ski pole design.  He advocated for public school ski programs which helped start what is now the Friday Program in Stowe.  And he even suggested jingles directed at good skiing etiquette such as "Trail Closed signs don't mean a thing; Patrol will find you in the spring!"
Springer-Miller's ideas also extended to the running of the ski resort itself.  Madi Springer-Miller Kraus shared a letter her father wrote during the World War II years that could be best described as an end of season assessment.  She feels he probably sent it to either Sepp Ruschp or Charlie Lord.  The letter suggests improvements for skiers arriving in Waterbury by train, the possibility of weekend ski buses, expansion of the lodging facilities, using side ski racks on the buses from the village to the area, an expanded menu at the Octagon, and wooden toboggans for the ski patrol.  Springer-Miller praises the success of season tickets and suggests the possibility of multi-day tickets.  Trail by trail he offers suggestions on what could be done to improve the skiing – including thinning the slalom glades.
In 1960 Frank and Louise became part of the Public Relations team at the Squaw Valley Olympics.  It was a family affair since their son Fred and his wife Glenn were in charge of the daily newspaper at the Olympics.
Frank had a custom-built Karmann Ghia imported from Germany which he drove to the Squaw Valley Olympics.  There was one of those Tahoe area snowstorms that dumped snow measured in feet and buried everything including the Karmann Ghia.  A giant piece of snow removal equipment inadvertently crushed the Karmann Ghia.  It was literally just a couple of years ago that Springer-Miller family friend and Ski Hall-of-Famer Nelson Bennett confessed that he had been driving that piece of snow removal equipment!
Special thanks to Madi Springer-Miller Kraus and Frank Springer for sharing their memories for this column.