Chin Clip, National, Nose Dive, Perry Merrill, and Smugglers are familiar trail names to those who ski Stowe regularly. Four out of the five names appeared on a 1941 trail map, but which one did not exist in 1941? Mike Leach of the Mount Mansfield Ski Club was the first to correctly identify the National as the relative newcomer.
Mike also pointed out that the Chin Clip, Perry Merrill, and Smugglers trails on the 1941 map were not in the same locations as the trails that bear those names today. The old Perry Merrill ran from just below Taft Lodge down to the bottom of the Nose Dive. Smugglers was a short pitch on the Spruce side that came out behind Barnes Camp. And the old Chin Clip was roughly where today's out-of-bounds Angel Food is located.
Brian Lindner says the National was cut in 1951 in his detailed article on Mount Mansfield trail history in this winter's edition of the Stowe Guide & Magazine. Peter Lawlor who also correctly answered last week's trivia question elaborated on this:
"it was cut in 1951 getting ready for the National Ski Races in Stowe held in March 1952. This was held after the 1952 Olympics. The following medal winners from the 1952 Olympics were in that race: Stein Eriksen, Othmar Schneider, Guttorm Berge, Christian Pravda."
Stowe is obsessed with its history, particularly its skiing history. That's appropriate given the important role Stowe played in establishing organized skiing in the United States. In some respects Stowe is like a museum. Most lodges and restaurants around town have some memorabilia on display. There are the ubiquitous old wooden skis and bamboo poles, leather ski boots, and many old photographs.
Charlie B's at Stoweflake has a great collection of old Stowe skiing photos. There are pictures of the local ski legends – Charlie Lord, Sepp Ruschp, Billy Kidd. There are pictures of international skiing figures taken here at Stowe – Jean-Claude Killy, Buddy Werner, Andrea Mead Lawrence. There are pictures of celebrities such as Lionel Hampton and Julius LaRosa trying to ski.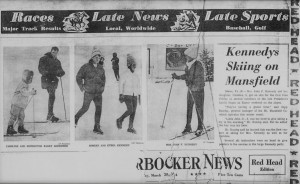 As we mark the fiftieth anniversary of John F. Kennedy's assassination, Charlie B's has some pictures of particular interest in the fireplace lounge. There you'll find pictures of the Kennedy clan skiing at Stowe. You'll see Caroline and John-John when they were small with their mother, Jacky. Bobby Kennedy who was an ardent skier is also there along with his brother Ted.
The Green Mountain Inn has a great collection of historic Stowe photographs. On the Whip level, you'll find pictures of the C.C.C crews that built the first ski trails, early skiers at Ranch Camp, and the construction of the Stone Hut. There are photos of the Summit House on the mountain as well as the huge Mount Mansfield Hotel that was located in the center of town. There is also a unique photo of Lowell Thomas doing his national broadcast from the Green Mountain Inn!
A tour of Stowe as a museum isn't complete without including the Vermont Ski and Snowboard Museum. The Museum celebrates Vermont's role in alpine skiing, nordic skiing, and snowboarding history. There are exhibits from equipment used by the 10th Mountain Division in World War II to snowboards used by Jeff Brushie, Kelly Clark, and Ross Powers. If you're visiting Stowe and looking for an off-slope activity, consider a visit to the Museum.
This week the Museum is also hosting Warren Miller's latest movie "Ticket to Ride" on Friday and Saturday, December 27 & 28. The movie shows at 7:00PM. Oh, and while you're there you could check out this book they have for sale called Retro-Ski: A Nostalgic Look Back at Skiing!