AIG founder C.V. Starr was a successful business executive who got hooked on skiing and hooked on Stowe! But he wasn't the only successful executive to get hooked on skiing and Stowe.
Thomas J. Watson Jr. was the son of IBM founder Thomas Watson. After serving in World War II, Tom Jr. returned to take a management position at IBM. In 1952 he became President of the company and after the death of his father in 1956, Tom Watson Jr. took over as the CEO of IBM.
Tom Jr. was an avid skier and sailor. He, his wife, and their six kids became regular visitors to Stowe during ski seasons. He was a pilot so he would fly the family up from New York to Burlington for ski weekends in Stowe. It was during these trips that he visited a spec manufacturing site built by the Greater Burlington Industrial Corporation (GBIC). In 1957 that site would become IBM Burlington and legend has it that Watson chose it so he could write-off his ski trips! Whether that was true or not, IBM Burlington was the most visited site by the CEO for quite a few years.
In Stowe, Tom Watson Jr. would purchase land on Little Spruce and build a "ski lodge." Watson had the lodge designed by Larry Hess, the architect/innkeeper of the Stowehof. Hess' design for Watson's lodge was considered contemporary and even today its look is unique.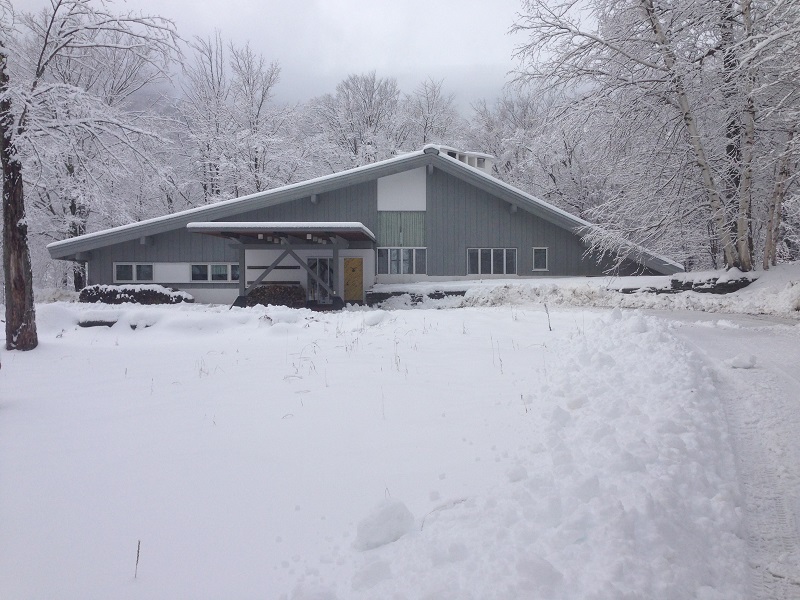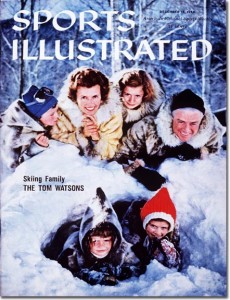 The Watson family and their ski lodge were featured in the cover story of Sports Illustrated's December 14, 1959 issue. The article entitled "Wintertime and the Watsons" is mostly photos taken inside the house. In one of those strange coincidences, a couple of the photos include the Watson's neighbors on Spruce, the Harry Larsen family. I'm betting that one of the boys in those photos was Per Larsen whose obituary appeared in the Reporter last week!
IBMer Jim Sundquist was the first to correctly identify Tom Watson Jr. and his wife Olive as the original owners of the ski lodge. Stowe Host Willie White was the first non-IBMer to provide the correct answer. Other correct responders included local Lyndall Heyer and Ralph Hilbert of Port Jefferson, New York. Ralph has skied Stowe since the 1960s and says he always admired that house.
In his book "The AIG Story", Maurice "Hank" Greenberg identifies two times that Tom Watson Jr. tried to buy the Mt Mansfield Company. The first was sometime in the 1950s when Watson approached C.V. Starr directly. Starr wasn't willing to part with the ski area he loved; however he did sell Watson a 20% interest in the Mount Mansfield Company. The second time was after Starr's death in 1968 when Watson contacted Greenberg offering to buy the other 80%. Greenberg indicated he'd be willing to entertain an offer and said "I want it to be the same price at which you'd be willing to sell." Watson made his offer and Greenberg repurchased Watson's 20%!
Of course Tom Watson Jr. did acquire a ski area. In 1962 he and his brother Arthur bought what is now the Smugglers Notch ski area just over the notch from Stowe. However even after that, Tom Watson Jr. and his family stayed with their Stowe house and skied Stowe. Since his dream for Smugglers Notch had been to build a European style village, I've got to believe that Watson would really like what has happened to his Little Spruce neighborhood.