Last week I talked about the challenges of winter driving in the RetroSki era and the merits of the much-maligned Corvair. I received more Corvair responses after the paper's deadline last week as Larry Heath and Bill Kornrumpf joined the list of correct answers. Bill added that he used to do some ice racing with his more traditional rear-wheel-drive car and "could never touch the Saabs and Corvairs!" Which brings us to this week's column.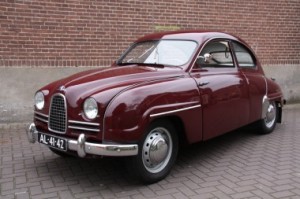 The Swedish company Saab originally designed and built airplanes. After World War II the company diversified and produced their first automobile in 1949. That was the Saab 92 which featured a two cylinder, two-cycle engine. The first Saab automobile imported into the United States was the Saab 93 in 1955 which had a three cylinder, two-cycle engine with only seven moving parts!
Once again this week there were lots of correct answers identifying the Saab 93. J.B. McKinley, Jack Pickett, William Hays, Ken Duclos, and Richard Story all recognized the Saab engine details.
Rick Franklin pointed out that the German Wartburg had an engine with the same characteristics and apparently it was imported into the states at some point. But the Wartburg certainly didn't catch on like the Saab did. The Wartburg had another similarity to the Saab in that it was an ugly car. The old Humpback Saab was designed for good aerodynamics, but it wouldn't win any beauty contests.
William "Shakey" Hays did some ice-racing with Saab 93s. He says he went through three of the cars during one racing season! However he said is all-time favorite ski car for winter driving was a Porsche 911 that he used commuting between New York and Killington. He had to give that car up when he went to work for the Mountain Company here in Stowe in 1968.
My first exposure to a Saab was in college where a couple of my skiing buddies owned them. I had never heard of front-wheel drive or its advantages in snowy conditions.  I thought my Corvair was pretty good in the snow, but I had to admit the Saabs were even better and they had a better heater! I got to drive one of the Saabs, a Saab 96 model with a four-on-the-column shift, which took some getting used to. Plus you had to remember to add oil to the gasoline for the two-cycle engines, a point mentioned by almost all who answered the trivia question!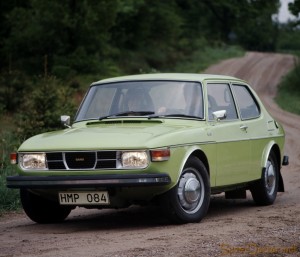 By the time I moved to Vermont, Saab introduced the Saab 99 with a more conventional four cylinder, four-cycle engine and a much more aesthetically pleasing design. Saab popularity, particularly in Vermont, increased dramatically. While today Subaru claims to be the unofficial Vermont state car, I'm pretty sure Saab could make that claim in the 1970s.
Once again I found myself skiing with Saab-owner friends and when I needed to get to an area on a powder day, we took their cars. I recall one snowy day heading to Jay Peak from the Montgomery side in a Saab. The long climb on that hill was littered with cars that weren't making it. It took us two tries to work our way past and through those cars and we were close to making it over the top, but lost traction. At that point the hill isn't as steep so two of us got out, sat on the front fenders and with that added weight over the drive wheels, we made it! During the time it took us to successfully conquer the hill, no other vehicle passed us. Now the downside of that story is that most of the lifts at Jay were closed due to high winds, but we did enjoy the powder off the Jet T-bar!