Happy Thanksgiving to all RetroSkiers! I'm back for another ski season of nostalgia and history and trivia, of course.
While Mother Nature is off to a slow start, the beginning of ski season usually also means the beginning of the winter driving season. As skiers we know the two are inexorably tied together: the snow that produces great skiing conditions also produces lousy driving conditions. And most of us here in Vermont still rely on our cars to get to the ski area.
Rant warning: This week's post is only tangentially related to skiing nostalgia, but it is something about which I have strong opinions!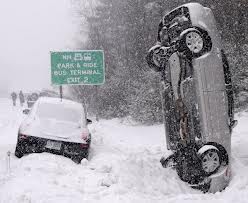 In recent years I've heard a lot of complaining about the maintenance of our state and local roads during the winter season. The implication seems to be that we used to do a better job in those RetroSki days of the past. I have commuted to work and skiing in Vermont for almost fifty years and my opinion is that the roads are kept in better shape today than they ever have been! In fact I think our state and local road crews deserve compliments and thanks for the job they do!
So if the roads are actually better today, then what's the problem? Well, it could be the cars. But wait a minute, most cars today are front-wheel drive or all-wheel drive which should be better in winter conditions! In the RetroSki days, almost all cars were rear-wheel drive. Harlow Hill was a real challenge in those days when there wasn't a dedicated state truck parked at the Matterhorn and all those New Yorkers had rear-wheel drive cars.
Oh, so maybe it's the tires. However today's tires are better than those old pre-radial tires from the RetroSki era. Yes, there are still too many people who try to get by on summer or all-season tires, but that was always a problem. (I do have to mention one exception: those very low profile performance tires often used on sporty performance cars are next-to-useless in snowy conditions.)
So the roads, cars, and tires today are better for winter driving than those in the past. What else could possibly make the difference? That's right, it's us! We have become a very impatient society expecting to have what we want when we want it. If my commute takes 35 minutes in the summer, it should still take me 35 minutes in the winter! How did the first state to ban billboard signs end up having to litter its Interstates with electronic billboards telling us we should slow down for winter conditions?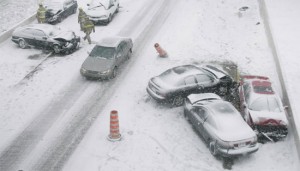 That does highlight one difference between the RetroSki days and today: more Interstates. When most of our travel was on two-lane roads there was a natural slowing of traffic. Generally you would end up at the back of a long line of slow-moving cars, cursing whoever was leading the line. But it slowed you down! The mixture of speeds on today's Interstates in wintry conditions leads to spectacular multi-car accidents. It also endangers the people out there trying to keep the roads clear. Last winter saw an unprecedented number of collisions involving plows or state police vehicles!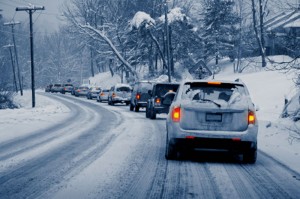 So I've got a radical proposal: when the forecast calls for wintry conditions, close the Vermont Interstates! Force us to go back to the two-lane roads of the RetroSki days. There would still be accidents, but they would involve less people and less state vehicles. That would save us all money in terms of insurance and taxes! And it would slow people down.
The secret to winter driving is simple: allow more time to travel whatever distance you're going. Whether you're traveling to Boston or just up the Mountain Road, if there's a possibility of precipitation, leave early to arrive safely on-time.