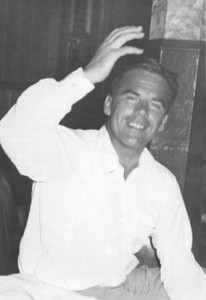 "Learn to ski in seven days or your money back!" Now that's an offer you don't see today. But that was the promise Jay Peak made back in the late 1950s. The man behind that promise was Walter Foeger.
Walter Foeger grew up in Kitzbuhel , Austria, where he excelled in several sports. He won an adult tennis tournament at age 14, became a center on the men's hockey team at 16, and at 18 skied to victory in the Junior Division at the Hahnenkamm in Downhill and Combined. However WWII interrupted Foeger's competitive career. During the war Foeger would help train the German ski troops in skiing.
Like all Austrians Foeger was steeped in the Arlberg technique for teaching skiing developed by Hannes Schneider. The technique defined a series of steps that would lead to the goal of skiing parallel. There was the snowplow, snowplow turn, stem turn, stem-Christie, and finally the parallel Christie. Foeger observed that many students had difficulty unlearning the snowplow and stem to achieve full parallel skiing. Why learn something that you then have to unlearn to achieve your goal?
After the war Foeger ended up accepting a job coaching the Spanish National Ski Team. It was there that he began experimenting with different ski teaching methods. He developed a direct-to-parallel approach that he called Natur Teknik which emphasized parallel skiing from the beginning and eliminated the snowplow and stem.
We jump ahead to 1956 and the Northeast Kingdom of Vermont. The region wanted to capitalize on the growing popularity of Vermont as a ski destination by developing Jay Peak as a ski area. With the help of Perry Merrill, Charlie Lord, and Sepp Ruschp they had the beginnings of a ski area including a cleared slope and a Poma lift.  But they didn't have an Austrian like Sepp Ruschp to head the ski school and add legitimacy to their efforts. As fortune would have it, the head of the Austrian Tourist Bureau in New York, Rudi Mattesich, had a summer home in North Troy, Vermont. He helped make the arrangements for Walter Foeger to come to Jay Peak.
Foeger arrived at Jay in December of 1956 to find a slope too steep to support beginner skiing and a Poma lift that hadn't been installed. Foeger became a ski area builder and had the Poma lift running by January. Then in subzero January weather he led a volunteer crew in cutting a new beginner trail. During that first winter Foeger would sell tickets, groom the slopes, design new trails, and give ski lessons – sometimes to as many as fifty students at a time!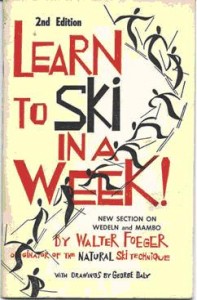 Foeger used his Natur Teknik to teach skiing at Jay.  In 1958 he published "Learn to Ski in a Week" documenting his approach. His guarantee to teach students to ski in seven days drew people to Jay Peak which allowed the ski area to grow. By the time Foeger left Jay Peak in 1968, Jay had 45 trails and 8 lifts.
Bob Burley was quick to identify Walter Foeger as the inventor of Natur Teknik. He also said that Foeger used to set nightmare slalom courses when the high school racing circuit visited Jay. The courses challenged both your course reading ability and your skiing skill.
As mentioned previously, Foeger documented his teaching approach writing several books. He also trained and certified instructors in his Natur Teknik forming the American Ski Teachers Association of Natur Teknik (ASTAN). Foeger helped start Natur Teknik ski schools at Okemo and Camelback in Pennsylvania. Eventually about a dozen ski areas in the eastern United States would adopt  Natur Teknik.
Spreading his Natur Teknik approach would actually lead to Foeger leaving Jay Peak. Weyerhaeuser gained controlling interest of Jay Peak in the mid-1960s. Foeger was still the area manager, but he had less freedom than when he called most of the shots. He planned a trip to Japan to help establish Natur Teknik at a ski area there, but Weyerhaeuser wouldn't give their approval. Foeger went anyway causing his severance.
After leaving Jay, Foeger spent some time in Stowe playing tennis with his old friend Sepp Ruschp. Foeger would win the Vermont Senior Tennis Championships several times. In 1973 he returned to Austria to head the Austrian National Tennis Association. Walter Foeger was inducted into the United States Ski and Snowboard Hall of Fame in 2005. He died in 2007 at the age of 89.
For more information on Jay Peak, Walter Foeger, and Natur Teknik, visit http://jaypeakhistory.com/. Bob Soden has put together a comprehensive, well-written website that's worth a visit.