"If you can ski [ski area name], then you can ski anywhere!" I'm sure most of us have heard someone make that claim. Maybe you've even made that claim about a ski area. I know I have! In my case the ski area was Mount Whittier in New Hampshire.
Mount Whittier was a relatively small area located on the main route to the larger, more recognizable ski areas in the Eastern Slopes region of New Hampshire. It was actually a good location since everyone driving to Cranmore, Wildcat, or Attitash had to drive right by it.
When I first skied Mount Whittier in the early 1960s, it had a collection of T-Bars. The main T-Bar was 2100 feet long and served a steep open slope. The slope was steep enough that I learned a new word that I'd never heard before: "mogul!" And my first exposure to Mount Whittier was not love at first sight.
I remember getting off the top of that long T-Bar for the first time. I started a traverse across the moguls and began a conversation with myself:
"I'm going to turn on this first bump."
"No, no, the next bump looks better."
"Whoa, that one's even worse! I think my best chance is a couple bumps ahead."
Eventually I got to the opposite side of the slope never having made a turn. I did a kick-turn – does anybody remember how to do a kick-turn today? – and then traversed the slope again repeating the same conversation with myself!
Many traverses and conversations later I got to the bottom and retreated to the shorter T-Bar that served the intermediate slope.
I did not learn to appreciate Mount Whittier until I was in college. By then I had made my breakthrough into parallel skiing and Mount Whittier offered a couple of advantages: a $25 college season pass and it was one of the closest areas to UNH!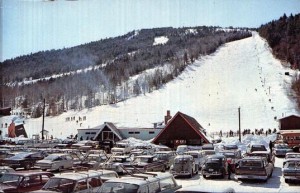 Oh, the moguls were still a challenge, but I was ready for the challenge. Mount Whittier had added a gondola that opened more steep terrain which meant more moguls. I skied Whittier for the 1966-67 and 1967-68 seasons, probably averaging 50 days a season. I graduated in 1968 with a degree in mathematics from UNH and a degree in moguls from Mount Whittier!
I mentioned the gondola which was New Hampshire's first four passenger gondola. Whittier chose a gondola to attract summer visitors as well as skiers in the winter. They located the gondola base across Route 16 over a quarter mile away from the base of the ski area. There was a separate skier loading platform at the bottom of the slope.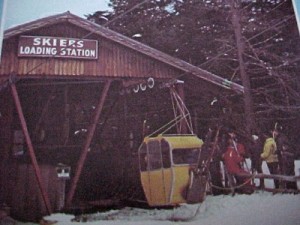 I don't know how much summer business the gondola generated, but it wasn't a good choice for a ski lift on such a small mountain. If you noted who was at the back of the line when you got on the gondola, you'd see they were still in line when you finished your run! That meant that on a busy day the gondola line just kept growing. We usually would switch to the T-Bars when the line got long and only return if the line got shorter.
Mount Whittier ran into problems in the 1970s when real snowfall became less reliable. Its relatively southern location and low elevation made Whittier more susceptible than areas further north. Plus its financial situation wasn't strong enough to invest in snowmaking. After years of on-again-off-again operation and changes in ownership, the area closed for good in 1985.
I just drove by Mount Whittier this past Sunday. The trails and slopes are grown over and only those of us who skied there can really pick out where they were. The gondola line is still very visible since they keep it cleared for the electric lines to the cell towers atop the mountain. And the gondola towers and cable are still going over Route 16 even though the gondola hasn't run in 30 years.