When did the original Mount Mansfield T-Bar begin operation?
Mike Leach provided the correct answer as the T-Bar went into operation for the 1946-47 season. So this season is the 70th anniversary for that lift. Actually there is more significance to that anniversary than just celebrating a now-defunct lift.
By the mid-1940s Stowe had a single chair owned by Roland Palmedo's Mount Mansfield Lift Company plus a collection of rope tows owned by Sepp Ruschp's Mount Mansfield Hotel Company. Sepp had a strategy to replace the rope tows that were on Mount Mansfield above the Toll House, but needed financial backing to afford a more modern lift – a T-Bar.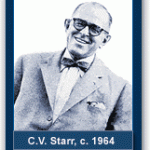 Enter Corneilius Vander Starr, founder of American International Group (AIG). Starr had been introduced to skiing in New Hampshire via Hannes Schneider and had also visited Sun Valley to take ski lessons there. Starr came to Stowe to take private lessons from Sepp and was appalled to find out that as instructor and student, they could not cut the lift line on the single chair. That was because the chair lift was owned by a separate corporation from Sepp's Ski School.
Starr expressed an interest in investing in Sepp's plans for a new lift. First, to extend the T-Bar beyond the existing rope tows meant obtaining 400 acres of land owned by Craig Burt. Burt also owned 3000 acres on the Spruce side and he was only willing to sell "everything or nothing." Starr purchased the land while reserving the timber rights for the Burts' lumber business.
A new corporation was formed for the T-Bar with Starr as the majority investor. The T-Bar was built and opened for the 1946-47 season.
This would be the beginning of Starr's and AIG's involvement with the Stowe ski area. By the 1950s Starr was able to obtain majority ownerships of the various corporations: the Mount Mansfield Lift Company, the Mount Mansfield Hotel Company, Sepp's Ski School, the Lodge, and the T-Bar. These were consolidated into the Mount Mansfield Company with Sepp as General Manager.
Of course today the Mount Mansfield Company is one of the many corporations that comprise Stowe Mountain Resort. These still operate under the ownership of AIG.
In effect this season we are celebrating the 70th anniversary of Stowe and its relationship with AIG! So the next time you ski Starr or T-Line, remember they mark a relationship that has benefited Stowe and skiing on Mount Mansfield for the past 70 years.