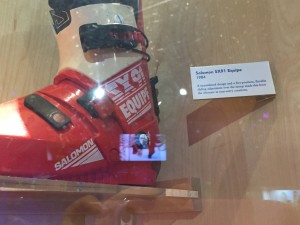 Last winter while Meg and I were in Utah, some Vermont friends came out to visit and ski. One of those friends was Ed Trottier who was skiing in 25 year old Salomon SX-91 boots! We had a laugh since literally the day before we had visited the Alf Engen Museum in Park City and saw a pair of the same boots on display. We accused Ed of robbing the museum to get his ski boots.
The fact is the Salomon SX-9x series still has a dedicated following. Last week's trivia question asked what was so unique about those boots to create such a loyal following? They were the best rear-entry ski boots ever made.
Robert Pandaleon was the first with the correct answer. He actually skied on some Salomon SX-3s which also were rear-entry. He says his wife called them his "Star Wars boots."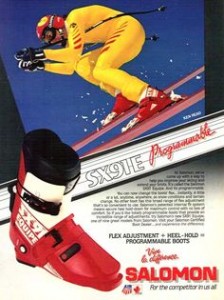 Glen Findholt also had the correct answer and pointed out that the SX-9s were even used by some racers. Indeed, Marc Girardelli had success on the World Cup in a pair of SX-90s.
Glen also had a great story about one of his fellow Smuggs instructors who had a pair of SX-91s. In an attempt to make the boots even lighter, the instructor had replaced the metal screws with nylon screws. On a particularly cold morning – not unlike those we're having right now – Glen was walking behind the instructor and watched as parts began falling off the boots! Apparently metal and nylon have different contraction coefficients in cold weather.
Lyndall Heyer was another racer who had success with the rear-entry SX-9s. She won races on the women's pro race circuit using a pair of SX-91 Equipes. You can see the actual orange Equipe boots she used on display at Inner Bootworks here in Stowe. Lyndall says "Salomon was thrilled with the women racers on the pro tour who won on their boot."
So what happened? If these boots were so popular with both racers and recreational skiers, why did Salomon discontinue them?
Jackson Hogen looked into this in a recent article on his realskiers.com website. Hogen notes that this season marks the 20th anniversary of Salomon's decision to get out of the rear-entry boot business. The underlying story goes something like this: Salomon's success with rear-entry boots forced its competitors to join the market. However Hogen says the competitors' boots were "inferior when they weren't hysterically awful!" So competitors began to disparage rear-entry boots as being for "losers." This campaign was so successful that Salomon management felt the rear-entry boots were hurting its credibility in the ski and binding business as well. Thus the decision to abandon rear-entry boots.
Hogen is amazed that no one has picked up the rear-entry concept at least for rental boots where they could help make that initial skiing experience easier for both rental staff and the skier!
Another reason Hogen was writing about rear-entry ski boots is that he feels they could provide help for aging skiers. Despite the improvements in conventional ski boots, they still aren't that easy to get on and off. I'd add my note that this cold weather makes taking them off particularly challenging! Hogen believes that at some age point, the difficulty in getting in and out of conventional ski boots can affect how often you ski.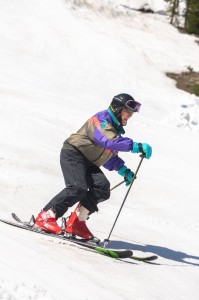 I'll add plaintiff's evidence #1 for Hogen's case: George Jedenoff celebrated his 100th birthday on July 5th, 2017. George is a Snowbird skier who didn't start skiing until he was 43 years old, but has skied in every season for the last 57 years. Granted, last season he only logged three days. Snowbird went out of their way to allow George the opportunity to ski on his 100th birthday. The area got some great media coverage of the event and in the pictures of George skiing you can clearly see his Salomon SX-91 Equipe ski boots!!