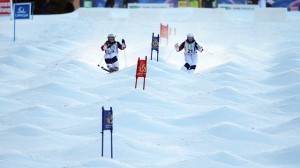 Alright, I'm going to say it. Today's World Cup mogul competitions are boring! They've become formulaic with two pre-built jumps and machine-made moguls. The top competitors piston their way through the bumps and launch very similar complex jumps. Any slight break in form pretty much eliminates a competitor from the competition. The final scores of those who do complete the course without major form breaks are so close that the average fan may be left scratching their head over what made the difference.
Oh, don't get me wrong. These are amazing athletes who deserve to be recognized. They bring perfection to a sport that defies perfection. However the sport has lost the connection to its roots.
I'm not the only one who feels that way. One of the pioneers of freestyle skiing who was known for his mogul skiing shares that view. Airborne Eddie Ferguson admires today's mogul skiers, but feels the sport is missing the "free" in freestyle skiing.
Freestyle skiing's roots were in the late 1960s.  A group of young skiers were doing amazing things on skis and they were captured on magazine covers and in ski movies. Some of them were even getting paid for their antics.
The first acknowledged freestyle competition was held at Waterville Valley in 1971. This was no amateur event as cash prizes were offered along with a Corvette! Competitors got one run to demonstrate their mogul skiing, jumps, and skiing tricks – all in that one run. This would eventually lead to the three separate events: moguls, aerials, and ballet. But the overall prizes still went to the competitors who did the best over all three events. At some point specialization took over with separate competitions for moguls and aerials with ballet falling by the wayside.
The early mogul competitions were held on natural terrain such as Exhibition at Sun Valley and Bell Mountain at Aspen. When the freestyle circuit came to Stowe, the mogul competition was held on the upper National. The "judging" was somewhat arbitrary, but a run that looked like the skier was on the edge of disaster usually got high points. Recoveries from breaks in form were rewarded not penalized. Even a fall didn't mean a competitor was out of it as long as they didn't lose any equipment and finished the run. As I recall, two falls in a run did knock you out of the competition. In general the run that produced the biggest reaction from the spectators received the highest score.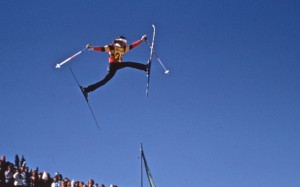 There were no prebuilt jumps. Competitors found air wherever they could and some spent most of the run in the air! One such competitor was Airborne Eddie Ferguson who definitely earned his nickname!
Ferguson grew up in Idaho skiing at Bogus Basin. By age 14 he had become an instructor and at age 16 he became the youngest certified PSIA (Professional Ski Instructors of America) instructor ever.
Bill Kornrumpf knew that Airborne Eddie Ferguson was the youngest PSIA instructor. Bill says he was just starting skiing when the freestyle movement began and loved the fun approach exemplified by Ferguson and others such as Wayne Wong.
Longtime Smuggs instructor, and personal friend of mine, Glen Findholt also had the correct answer to last week's trivia.
As mentioned, Eddie Ferguson was a young certified ski instructor which meant he had a strong understanding of skiing basics. But as most teenagers do, he wanted to test the limits. By age 17 he was doing flips and helicopters. Still he stuck with his instructing which helped pay for college and in 1969 he was named to the PSIA demonstration team.
When freestyle contests began in the 1970s, Eddie was a natural. He was a crowd favorite and excelled in moguls. Ferguson attributes his training in basics for allowing him to push the limits, but still keep going. He literally would launch off every mogul doing backscratchers, spread eagles, whatever. He became the World Freestyle champion in 1973 and also received SKIING magazine's "Hotdogger of the Year" award.

Ferguson would start camps for younger skiers to learn the fun of freestyle skiing. From 1972-79 his camps spread around the United States, Canada, and Europe. He taught and trained an estimated 4000 students passing on freestyle to the next generation. That next generation would see freestyle become a World Cup and Olympic sport.
Airborne Eddie Ferguson is being inducted into the United States Ski and Snowboard Hall of Fame class of 2017.