Mad River Glen is celebrating its 70th anniversary this season! Its official opening was December 11, 1948, but due to low early snowfall, skiing didn't start until January, 1949. So even back then it was "Ski it if you can!"
Roland Palmedo founded Mad River Glen. Of course Palmedo had been a key part of the development of skiing in Stowe, but he felt Stowe was heading in the wrong direction.  Palmedo was a serious skier who had "earned his turns" before there were lifts. Suddenly Stowe was attracting less serious skiers who wanted more lifts, easier trails, and more nightlife. Palmedo wrote "I can't see that ski resorts need belly dancers, discotheques, and other side-show attractions." Hmmm? Belly dancers in Stowe?
After World War II, Palmedo looked to start an area that would adhere to his ideals. He put this in a vision statement that Mad River still uses today!
"…a ski area is not just a place of business, a mountain amusement park, as it were. Instead it is a winter community whose members, both skiers and area personnel, are dedicated to the enjoyment of the sport."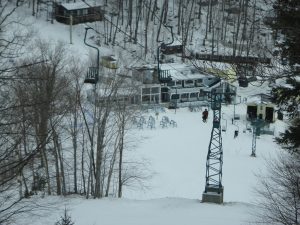 Palmedo chose a place that was all on private land and he could control the development. The adjacent house lots were sold to people who shared Palmedo's vision. The area even applied the "no frills" approach to naming its base lodge the Basebox!
MMSC Historian Mike Leach correctly answered last week's trivia question. Mark Yakubosky also identified Mad River as the home of the Basebox.
My first visit to Mad River was in January of 1969 when the area was 20 years old. At that time it was just another ski area as far its facilities were concerned. It had a single chair, but so did several other areas in the Northeast including Stowe, of course. It had already added two double chairs which were competitive with other resorts. And of course in those days, nobody had snowmaking.
There were two aspects of that first visit to Mad River that make it stand out in my memory. First, I went with a good skier who was familiar with Mad River Glen. His family had been members of the Hartford Ski Club which had a place at Mad River so he had skied it as a kid. Second, I was a week away from my first western ski vacation!
For the early part of my first season in Vermont, I had been skiing with people who were not expert skiers. However I met an IBM engineer, Bob Smith, who was as into skiing as I was and we headed for Mad River Glen. Bob had been a college ski racer at Worcester Polytech Institute. So for the first time that season I was skiing with somebody better than I was and he knew the area. Trying to keep up with someone who skis faster is very tiring, particularly when they know where they are going and you don't.
I remember on one cruising run Bob disappeared around a corner ahead of me and I followed at speed trying to keep him in sight. Suddenly the bottom just dropped out and I was airborne. I flailed arms and legs the whole time I was in the air and somehow didn't fall, but it took a lot of energy.
At some point during that day a thought crossed my mind: what happens if I get hurt and can't go on my western ski trip? As many of us know, worrying about injury affects your skiing and can lead to getting injured. Well, I survived the day, but didn't get to truly appreciate Mad River Glen.
In subsequent years I did learn to appreciate Mad River. Fall Line remains one of my all-time favorite trails. The way it uses the terrain makes the trail ski longer than it really is. And of course, tree skiing was always a part of the Mad River experience. After a snowstorm I really felt that the woods got tracked out before the trails!