I grew up in Conway, New Hampshire, which became a center of skiing thanks to Hannes Schneider and Harvey Dow Gibson. Now I live in Stowe and there are a lot of parallels between the two towns. Both became nationally recognized ski resorts thanks to Austrian ski instructors backed by American financiers. In Stowe's case the Austrian was Sepp Ruschp and the financier was C.V. Starr.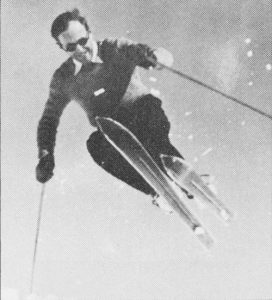 Sepp Ruschp was born in Linz, Austria, on November 17, 1908. His uncle introduced him to skiing when Sepp was 10 years old. Sepp took lessons from the Hannes Schneider Ski School in St Anton and was a quick learner. He soon got involved in competitive skiing which in those days included cross country, ski jumping, downhill, and eventually slalom. Being a natural athlete, Sepp excelled across all the disciplines.
Sepp completed his education in Mechanical Engineering and in 1931 landed a job with the Steyer automobile company. However due to the economic instability in Austria, Sepp was soon laid off. He continued to ski race and began studying to become a professional ski instructor. To become a certified ski instructor in Austria required passing an examination that included knowledge of skiing, mountaineering, first aid, and teaching skiing. The exam was administered by specialists in each of the categories. Only about 25% of those who would take the exam passed. When Sepp took the exam, the teaching skiing examiner was none other than Hannes Schneider. Sepp passed the exam.
Sepp's competitive success drew the attention of a sports equipment company who hired him to be manager of the sports department in their Linz store. Recognizing that he needed more education related to his new job, Sepp took night classes to get the equivalent of a Business Administration degree.
In 1934 after the Austrian national championships, the head of the Austrian Ski Association told the competitors that he had received a letter from the United States Ski Association with a list of ski clubs in the United States who were looking for ski instructors. Hitler was on the rise and Austria was in a difficult position. Sepp saw the opportunity to escape the uncertainty of Austria by coming to the United States to be a ski instructor.
Sepp would write letters to 90 ski clubs in the United States! He enlisted a tutor in English to help him write the letters and to help him understand the responses. He got responses from Colorado Springs, Mount Hood, Mount Ranier, and of course, the Mount Mansfield Ski Club! The back-and- forth letter writing in those days took a while since it went by ship. Eventually Sepp was able to strike an agreement with Frank Griffin and the MMSC. Griffin had been able to line up coaching jobs with UVM and Norwich to sweeten the deal. It took another length of time to obtain a U.S. visa. On December 4, 1936, Sepp Ruschp set sail for the United States. He would arrive in New York City on December 10th and be greeted by a contingent of New York MMSC members. He took the overnight train to arrive in Burlington on December 11, 1936 where Frank Griffin would meet him and bring Sepp to Stowe. And as they say, the rest is history!
There were a couple of responders to last week's trivia question. John Thurgood looked up the answer in Pat Haslam's "Ski Pioneers of Stowe, Vermont."
Lyndall Heyer referenced Edwin Bigelow's book, "Stowe Vermont A History of the Ski Capital of the East" including that the first official lift on Mt. Mansfield, a rope tow, was installed that same December. She also offered a story of how Sepp helped her father, Larry Heyer, get The Ski Inn off to a good start. "My father, who built The Ski Inn which he opened on Pearl Harbor day in 1941, was very thankful to Sepp for bringing down a handful of letters from skiers who had written him looking for a place to stay."