I was a senior in college in November, 1967.  One of my skiing buddies asked if I'd be willing to drive into Boston to see a ski movie.  I was up for anything but studying so I said sure!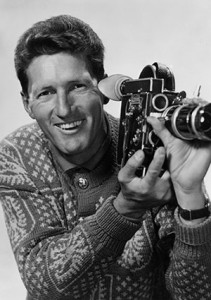 It turned out that the movie was being shown in the auditorium of the old John Hancock building. That was the one the windows didn't fall out of.  We joined a rather small gathering of mostly middle-aged men – we were by far the youngest people in the room.  Someone from the sponsoring group introduced the featured speaker who would narrate his own film. Ski movies narrated in person were not unusual in those days.
The person introduced was Hans Gmoser, a tall, slim man with a slight Austrian accent. While his film was a ski movie, it was also a sales pitch for his Canadian Mountain Holidays business and helicopter skiing in the Bugaboos. We drooled over scene after scene of untracked powder under sunny skies. As college students we weren't in any financial position to take Gmoser up on his invitation to go heli-skiing, but it immediately became one of our skiing goals. It would be 40 years before I would realize that goal.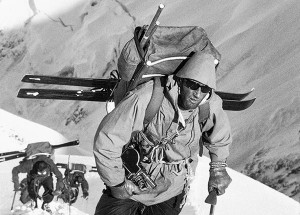 Hans Gmoser was an Austrian who moved to Canada in 1951.  He was primarily a mountaineer who would establish many Canadian climbing firsts. In 1957 he started Canadian Mountain Holidays (CMH) as a guide service for mountain climbing and ski touring. In 1965 he met Paul Davies, a helicopter pilot, and heli-skiing as we know it today was born.  The Bugaboos in southeastern British Columbia was the first heli-skiing region.
Gmoser travelled extensively through Europe and the United States promoting this new business with his self-narrated films.  As the business caught on, he built lodges that were remote, but also luxurious. Canadian Mountain Holidays expanded their business to other mountain ranges such as the Cariboos and the Bobbie Burns. Gmoser recruited and trained skiing guides to assure that guests had a challenging, but safe experience.
I had a lot of correct answers that identified Hans Gmoser as the father of heli-skiing. Bob McKee called in his answer and mentioned how legendary New Hampshire skier Brooks Dodge helped Gmoser line up investors in the business. Another correct responder was Bob Burley who skied with Gmoser in those early days. He says he made the mistake of using 210 GS Kneissls rather than some softer Head Standards. As a result he had to work a lot harder to ski all that powder. More on Bob later.

Gmoser wasn't the first to use a helicopter for skiing. Ski movies from the 1950s show the use of helicopters in Alaska to reach remote ski locations. But Gmoser was the first to turn it into a successful commercial enterprise. Gmoser's CMH set the model that other heli-skiing operators would follow. Today some 40,000 skiers and riders heli-ski in Canada and the United States annually.