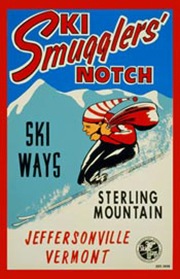 What was the original name of the Smugglers Notch Resort? No, it wasn't Madonna as a couple of readers answered. The original name was Smugglers Notch Ski Ways. Glen Findholt was the first correct responder. Glen is a Smugglers Notch ski instructor and retired IBMer.  Regular contributor Greg Dirmaier also had the right answer.
Tim Treadwell who had a Madonna season pass when he was three thought it had been the Jeffersonville Ski Ways. One of the sources I found mentioned that locally it was referred to as the Jeffersonville or "Jeff" Ski Ways, but the official name was Smugglers Notch Ski Ways.
The Smugglers Notch Recreational Area Association was formed in 1954 with the goal of helping stimulate the local economy through the emerging recreation industry. One of its first priorities was to establish a ski area on the Jeffersonville side of the notch. A local group headed by Dr. Roger Mann with the help of the State of Vermont and also the Mt Mansfield Company built a ski area on Sterling mountain. It consisted of two poma lifts, one serving the lower part of the mountain and the other the upper. The area opened in December 1956 as Smugglers Notch Ski Ways.
As mentioned last week, in 1962 Tom Watson Jr. and his brother Arthur arrived on the scene and bought Smugglers Notch Ski Ways. They saw an opportunity to create a European style village, but first they enhanced the skiing. The pomas were replaced by a chairlift on Sterling. Rumor had it that Tom's wife Olive found the pomas "obscene" so they had to go. A bigger change was the development of Madonna mountain which opened in 1964 and resulted in the name change for the entire resort to Madonna.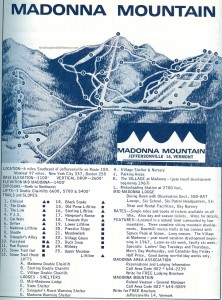 Morse mountain and the initial village that the Watsons had envisioned would come online in 1967. So in five years a small-time ski area had become a major resort. Times were different then, but the magnitude of that development rivals what has been happening at Stowe Mountain Resort for over ten years!
Tom Watson Jr. would have a heart attack in 1970 which would cause a change in his priorities. He stepped down as CEO of IBM in 1971 and in 1972 sold Madonna to Stanley Snider. Snider was head of the Stanmar company which had built the Morse village. Subsequently Madonna was renamed to Smugglers Notch.
The size of Tom Watson Jr.'s investment is an indication of his love of skiing and his willingness to invest in Vermont. Between IBM Burlington and Madonna, Watson's impact on the Vermont economy is immeasurable.