On Saturday February 20, 1960 my family was huddled around our black-and-white TV to watch the women's downhill at the Squaw Valley winter Olympics. I say huddled around because the reception for the CBS channel was pretty bad and made it look like they were skiing in a blizzard. (For the record, it was not snowing in Squaw Valley, just our TV!) As loyal New Hampshire-ites we wanted to watch Penny Pitou, a local skiing star that was a favorite to win.
As the race unfolded, it was the course that became the focus. The "Airplane Turn" near the bottom of the course was taking a toll on the racers. In fact, 14 out of the 41 racers failed to negotiate that turn! Apparently a warm day followed by a cold night had iced the corner more than the racers had seen during their practice runs.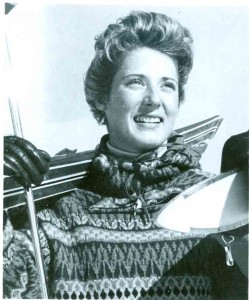 Penny Pitou did survive the Airplane Turn and ended up with a silver medal. However another United States racer did not fare as well. Betsy Snite from Vermont lost her right ski in the Airplane Turn. The ski cartwheeled, striking her in the helmet hard enough to leave a dent. It stunned Snite and there are pictures of her being unceremoniously dragged off the course by course workers. Obviously in 1960 the attention to possibly injured athletes was a lot different than today!
Six days later Vermonter Betsy Snite would redeem herself with a silver medal in the slalom.
Betsy Snite grew up in Norwich, Vermont. Her father had her on skis when she was only one-and-a-half years old. By age 11 she was winning races usually against the boys. Then in 1955 at age 16 she won the United States slalom champion beating none other than Andrea Mead Lawrence for the title!
All this success led to her being named to the United States Olympic team for the 1956 Olympics. At those Olympics she had a disappointing result in the GS and then tore knee ligaments practicing for the downhill.
In 1958 Betsy Snite and Penny Pitou basically became ski bums in Europe. They had realized that to beat the Europeans you had to learn from the Europeans. So they worked during the week, raced on weekends, and "accumulated European boyfriends." Betsy found that skiing with the boys "you learn to ski fast or spend a lonesome winter."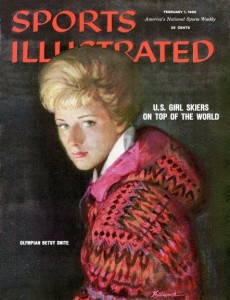 And it worked. Betsy began to win races on the European circuit including the prestigious Arlberg Kandahar slalom in both 1958 and 1959. In the build up to the 1960 Olympics, Betsy Snite and Penny Pitou were dominant and favorites for Olympic medals. Betsy's success led to Sports Illustrated naming her "Sportsman of the Year" in 1959.
Betsy Snite was a beautiful woman. Sports Illustrated put Betsy on the cover of its issue before the 1960 Squaw Valley Olympics. Andrea Mead Lawrence said that Betsy was "the best looking woman skier I've ever seen." In the 1959 off season, Betsy was a model for a San Francisco fashion firm. She loved clothes and at one time had a dozen pair of stretch pants. Her time in San Francisco led some to question her training regimen which she herself described as "dating, dancing, and learning to sail and drive a sports car."
Despite her fall in the downhill, Betsy Snite still had a successful 1960 Olympics finishing fourth in the GS as well as the silver medal in slalom. She would retire from racing at the end of the 1960 season after a final appearance at the American International race in Stowe.
Betsy would stay involved in fashion becoming a rep for Bogner and eventually DuPont. In 1964 she married Mount Mansfield Company marketing manager Bill Riley and settled in Stowe. In 1977 she opened an exclusive skiwear boutique, Betsy Snite Sports, on the Mountain Road here in Stowe.
Betsy Snite Riley died in 1984 from cancer at age 45, way too young. Her ashes were spread on the trails of Mount Mansfield.
Tim Griffin and Norma Stancliffe both identified Betsy Snite as the Vermont silver medalist in slalom. Norma knew Betsy and in fact was present with Bill and Betsy at the Mary Fletcher when Betsy passed away. Norma says that Betsy's motto was "it's not over till it's over and fight to the end."