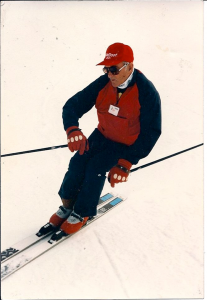 Mel Dalebout got hooked on skiing in the late 1940s while he was an engineering student at the University of Utah. He became proficient enough that he raced nationally within the United States.
With the advent of plastic ski boots in the 1960s, Dalebout decided to apply his engineering to advancing ski boots. He first experimented with foam-fit liners. You would put your foot in the liner, foam would be injected into the liner, you'd wait for the foam to firm up, and voila! You had a liner custom fit to your foot! Sounds good, but we'll come back to that later.
Dalebout also designed a new ski boot to go around his custom fit liners and founded Daleboot in 1969. The first model was made of magnesium, that's right, magnesium! Bet you didn't get those too close to the fireplace! The boot also introduced another new concept – the three-piece ski boot.
Conventional two-piece ski boots have a shell and a cuff. Three-piece boots have a shell, a cuff, and an external tongue. With the three-piece approach, the cuff and shell don't have to overlap making them easier to get into. Plus the external tongue provided more uniform pressure when the boot was buckled. Typically three-piece boots only need two or three buckles to secure them to your foot.
Bill Kornrumpf took time out from staying warm last week to answer the trivia question. He knew Daleboot was first with the foam-fit liners. He went on to say "sometimes the boot fitter actually got it right. Sometimes they were really overfilled and were painful."
When the foam-fit craze really took off in the early 1970s, I had a friend who tried the process. Much like Bill indicated, my friend didn't make it through a whole day of skiing due to the pain. He actually went through the process twice before returning to conventional liners.
One smart thing Mel Dalebout did was to patent the foam-fit concept. When European ski boot makers infringed on his patent, he sued and the resulting settlement funded Daleboot getting into the plastic ski boot business!
Daleboot is still in the ski boot business located in Salt Lake City. They still use the three-piece structure, but they don't use foam-fit liners. However they do use "heat fit" liners. I assume you heat the liner up, put your foot in it and let it cool. They advertise that you can repeat that process if your feet change.
Mel Dalebout sold his company in 2007 and passed away in March of last year at age 86.
Unlike rear-entry boots, three-piece ski boots are still available. Dalbello and Full Tilt provide three-piece models in addition to Daleboot. They are popular with freestylers and some extreme skiers.
Advocates highlight the ease of getting in and out versus conventional two-piece boots, but the main reason cited is the added forward flex that the design offers. While racers want a stiff forward flex, mogul skiers, park skiers, and skiers who regularly ski on gnarly surfaces appreciate a little more forgiveness.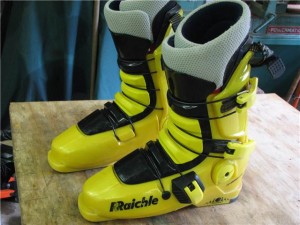 The most popular three-piece was the Raichle Flexon which was actually popular with both racers and freeskiers. American Bill Johnson won downhill gold at the 1984 Olympics in a pair of Flexons. The boot first came on the scene for the 1980-81 ski season and quickly grew in popularity to the point where Raichle had difficulty keeping up with the demand.
As the company changed ownership in the 1990s it ran into financial difficulties. By 2001 the Flexon was gone. But much like the Salomon rear-entry boots, the fans of the Flexon turned to eBay to repair or replace their Flexons.
K2 acquired the Flexon molds in 2004 and now uses them in their Full Tilt ski boot line. Bill Kornrumpf used to ski in the Raichle Flexons, but now swears by his Full Tilt three-piece boots!