We've all been there. You're skiing along in control and then something happens. Maybe it's an icy spot; maybe it's a bump; maybe you're leaning too far inside; or leaning too far back; or maybe a snow snake bit you. Suddenly you're out of control! There are two possible outcomes when this happens: you make adjustments to regain control or you fall. That period of time between losing control and the eventual outcome is called the "ragged edge." It can be just a fraction of a second or an eternity!
To be a successful downhill competitor you have to be very comfortable on the ragged edge. You do not win a downhill by skiing in control for the whole course. Watch Franz Klammer's legendary run at the 1976 Innsbruck Olympics if you want an example. Or for that matter, watch any competitor at the Hahnenkamm downhill!
So you would expect someone who lived his whole life on the ragged edge would be a good downhiller. Such was the case for the 1952 U.S. National Downhill champion, Dick Buek.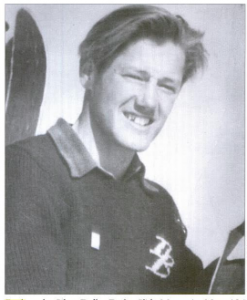 Nancy Twitty did come through with the answer to last week's trivia question. "I DO know the answer –It was Dick Buek, but he was actually 5th!  The first four were not eligible for the US title:  Ernie McCulloch was first, on a pair of borrowed skis, followed by Stein Eriksen, Othmar Schneider and Guttorm Berge.  So many sweet memories: Buek – always known by his last name – another good friend and like spirit – win or crash and burn!"
Buek was a Californian born with a go-for-broke attitude. Whether it was diving, riding a motorcycle, flying a plane, parachuting, or skiing, he loved the ragged edge. He didn't start skiing until he was 17, but it was an instant love affair. He loved the speed and didn't like turning because it "just slows you down!"
He won his first downhill in 1948 at White Hills in Nevada. Those were the days where in addition to the individual events, awards were given for the best all event skiers which included ski jumping. After winning the downhill, someone asked Buek if he was going for the "4-Way Title." Buek had never ski jumped, but borrowed a pair of jumping skis and finished well enough to win the all-around "4-Way Title."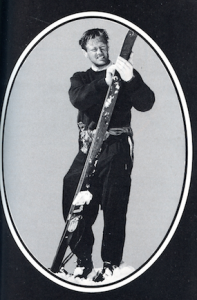 In 1949 Buek moved his skiing from the Tahoe area to Sun Valley in Idaho. He was a ski bum, but got to hang out with some of the big skiing names of the era as well as the beautiful people that Sun Valley attracted.­
Buek made a name for himself for the disrespect he showed a premier Sun Valley trail. Most of us know Exhibition as one of the toughest mogul runs anywhere. And no one with any sense would ever think of just running it straight. Even in Buek's day when they actually had downhill competitions on Exhibition, there were enough bumps that most competitors planned circuitous routes down the slope. Not Buek. He ran it straight in what could best be described as linked recoveries. And he'd do it over and over just for fun. Various accounts have him skiing it as many as ten times in a day!
In 1953 Buek was involved in a horrific accident. Riding his motorcycle, he ran head-on into a car that was taking a curve on the wrong side of the road. At the scene he was initially left for dead, but someone recognized him and made sure he got to a hospital. He broke almost every bone on his right side and would end up with pins in his right knee and a plate in his left shoulder. Buek would never regain full range of motion in that knee. To ski he had to adapt his stance and technique to compensate.
But Buek was back competing in 1954 and won his second U.S. downhill championship at Aspen. In all, at U.S. National Downhills, Buek would have two wins, two seconds, a third, and a fourth.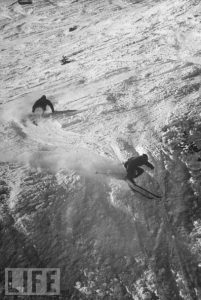 In 1955 Buek was once again in Stowe to compete. However during a practice run he went off the trail, hit a tree and broke his back. The story is told that at the hospital the day after the accident, he was asking for his ski clothes. He knew he couldn't race that day, but he wanted to pull a psych on the other racers by just showing up. The doctors and common sense prevailed that day.
Buek returned to competition in 1956. Skiing with a back brace he placed third in the downhill at the U. S. Nationals. However he wouldn't be on the U.S. Olympic team. Nancy says, "He wasn't on the '56 team, I can't remember why, so we were both outsiders at Cortina and then at St. Anton."
Buek is quoted as saying, "When I go, I want to go straight in!" In November of 1957, just a few days shy of his 28th birthday, Dick Buek was killed when the plane he was flying crashed into Donner Lake. He went straight in!