Powder days and first tracks are a skier's dream. Getting to the ski area on a powder day can be a skier's nightmare! Generally the same weather that produces a good powder day also produces miserable driving conditions. Add into the equation that to reach most ski areas involves negotiating at least one hill and the challenge becomes getting to the powder.
This is true today, but it was even more of a challenge during the RetroSki days due to three factors. One, there were more major snow storms during the winters. Two, roads were not plowed as well as they are today. And three, almost all vehicles were rear-wheel drive! On that last point, today the percentages are reversed with most of the cars heading up Harlow Hill being front-wheel, all-wheel, or four-wheel drive.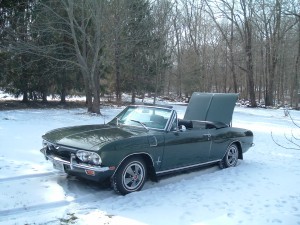 However there were vehicles that Retro-skiers felt gave them an advantage in those winter conditions. For me that car was the Chevy Corvair. The Corvair was an air-cooled, rear-engined, rear-wheel-drive car. The rear-engine meant there was weight over the drive wheels giving more traction in slippery conditions. And in the case of the Corvair that was a lot of weight! The heavy rear-engine with no front stabilizing bar in the original Corvair led Ralph Nader to dedicate a chapter to the Corvair in his book "Unsafe at Any Speed." That's right, it was just one chapter, but somehow the Corvair took the brunt of Nader's criticism for the entire auto industry.
Wow, lots of correct answers to last week's trivia! Hank Lunde was the first to identify the Corvair as Nader's target. Thanks to Hank for his kind words about my column.
Ed Pearson, Judi Pease, Russ King, and John Lutz were former Corvair owners who also answered last week's question. Ed sent along some pictures of his 1966 Corvair from when he and Jeannette were on their honeymoon.
Russ King lives near Syracuse, New York, and has been skiing Stowe since 1960! He had a 1962 Corvair and I'm guessing that more than once it got him to Stowe in some bad winter driving. Russ has shared Stowe with his children and ten grandchildren!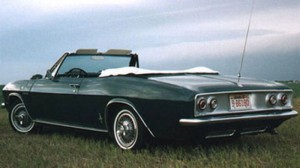 I got a 1965 Corvair while I was in college and it took me and my skiing buddies on many snowy ski trips. I still had it my first season skiing in Vermont which was that record winter of 1968-69. On Friday nights a group of us used to go to Bolton for a social evening of night skiing. On one particular Friday it had snowed all day and was still snowing when we headed up the Bolton access road. As most people know the biggest vertical at Bolton is the access road. My Corvair was one of about four cars to make it up that night. The only problem I had was negotiating my way around cars that weren't making it up. While Bolton at night isn't the greatest powder destination, we had the place to ourselves to make fresh tracks all evening in over a foot of fluff.
There were some situations that the Corvair didn't handle as well. It had low clearance so it could get hung-up on heavy deep snow like the plow leaves at the end of a driveway. More than once I had to shovel the snow from under the car because my attempt to blast through a snow bank fell a little short. Also air-cooled engines have the annoying characteristic of producing lots of heat in the summer when you don't need it and no heat in the winter when you do need it. I had a convertible which only made the problem worse. On subzero days the temperature inside the car was only a few degrees warmer than outside so you had to wear your full ski outfit.
There are a lot of readers who are saying "wait a minute, everything you've said applies to the old VW Beetle which was another good ski car!" That was definitely true and there were a lot more VW Beetles than Corvairs. The VW had more clearance which helped, but its engine was significantly lighter. I did later own a VW Beetle that on one powder day didn't get me up to Mad River. I had to park at the Mad River Barn and hitchhike with skis in hand. I was pretty sure my old Corvair would have gotten me there.