As you may have read in last week's Reporter, Vermonter Hannah Kearney won the 2015 overall World Cup for mogul skiing. She accomplished that by skiing moguls fast with as few form breaks as possible. Form breaks cost you points, recoveries cost you even more points, and falls knock you out of a competition.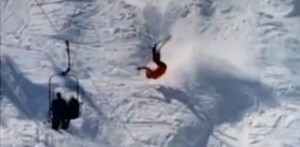 But that wasn't the way it was when freestyle mogul competition first began! In those early days, skiers were rewarded for recoveries. Even falls could be rewarded as long as you didn't lose any equipment and kept the run going in a continuous fashion. A run like Hannah Kearney routinely executes today would have brought murmurs of admiration and polite applause. But it wouldn't have scored as high as someone balanced on the edge of disaster! The judges played off the crowd. The louder the "Oh My Gods!" and gasps, the higher the score. The winning runs were often nothing but a linked series of recoveries. The judges wanted to know that competitors were willing to risk everything.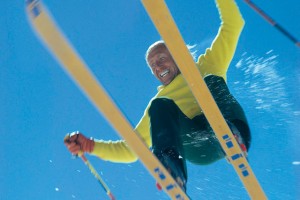 One of the names that emerged during those days was Bob Burns. In 1969 Filmmaker Dick Barrymore labeled Burns as the first freestyle or "hot dog" skier. Barrymore's footage of Burns skiing the bumps at Sun Valley made Barrymore's films popular and established Burns' name. Burns' style was unique as he stood up straighter than most skiers in the moguls. This was due in part to the 58 inch poles he used! In keeping with the 1960s, he had long blonde hair that tended to accentuate the speed and volatility of his skiing. He seemed to lean back which as most of us know is a recipe for disaster in the bumps, but somehow he would catch up to his skis. His skiing produced that edge-of-disaster feeling that made early mogul skiing competitions popular.
Although Bob Burns grew up in Utah he did not start skiing until he was in his 20s. He did have an athletic background having participated in gymnastics and platform diving. He also had a dance background which may have helped choreograph some of his recoveries! Burns liked to go fast, but wasn't interested in ski racing. His rationale was that to be a good racer you had to make turns and that just slows you down. Despite that, in 1966 his friendship with racer Chuck Ferries led him to a job with the United States Women's Ski Team. Ferries became the head coach and Burns became an equipment technician.
In 1968 Ferries left the ski team to join the nascent K2 ski company. He talked Burns into joining K2 even though Burns knew nothing about making skis. He apparently was a quick learner since by 1969 Marilyn Cochran won the GS World Cup on K2 skis!
Burns heart wasn't in racing, but in the growing freestyle movement. He wanted to design a different ski that would support that style of skiing, particularly in the moguls. The result was The Ski! In 1974 Burns started his own company in Park City, Utah and built a lightweight ski that was soft tip-to-tail, but stiff side-to-side. They would handle soft snow and bumps very well.
Burns' true genius was in the name he chose, "The Ski", and the graphic design he used. The name of the ski does not appear anywhere on the skis, but the distinctive blocks of color made it one of the most recognizable skis on the slopes.
Bill Westermann was quick to name Bob Burns as the creator of The Ski. Bill had two pairs of The Ski, one pair with the white background and the other with one yellow and one blue ski. Bill used Spademan bindings on them with Scott boots. This setup was very popular and produced the lightest boot-binding-ski combination available.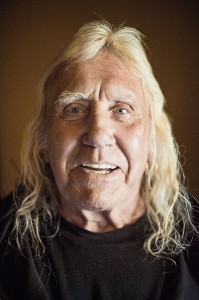 Bob Burns would sell his ski company in the mid-1980s. Eventually The Ski disappeared from the slopes. But two years ago the Scott company approached Bob Burns about resurrecting The Ski. Burns said yes and The Ski is back! It's quite different from the original in keeping with today's ski construction. Even Burns admits that these probably wouldn't be that good in the moguls. Burns is now 80 years old, still skis, and still has long grey-blond hair!