If you look up "love-hate relationship" in a thesaurus, one of the resulting synonyms will be "ski boots!" Ski boots are the most important piece of ski equipment whether you're a beginner or an expert. But since the beginning of recreational skiing, ski boots have also been the source of the most frustration.
It's difficult to imagine many skiers who truly love their ski boots. They can be difficult to get on or off. They can be too tight or too loose. They can even hurt. But we accept the struggle to get the performance.
However there are still some remnants of a radical group who thought ski boots should be easy to put on and comfortable. Those are the rear-entry ski boot fanatics.
Alden Hanson was the chief scientist for Dow Chemical in the late 1960s. He and his two sons Chris and Denny were also skiers. The elder Hanson had developed a flow material and eventually interested Lange boots in using it for their boot liners. Chris and Denny went to work for Lange and Lange-Flo was born. That's a good-news-bad-news story that will have to wait for another column. The two brothers would be fired by Lange in 1969 –  not about Lange-Flo, but because they were working on their own radical new ski boot design.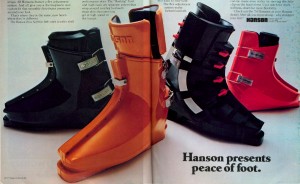 Chris and Denny Hanson would start their own company, Hanson Industries, and produce the first rear-entry ski boot in 1971. Their father, Alden, officially holds the patent on the design.
I received several correct answers concerning who invented the rear-entry ski boot. The first was from a non-skiing friend, Anne Nichols Pierce, who is a court reporter. She knew the answer because she had been the recorder for a deposition from Alden Hanson in a skiing accident liability suit years ago! Other correct answers came from former Hanson ski boot owner Rick Scotti and Stowe Host Bill Kornrumpf.
Rear-entry boots were easy to put on, simple to close, and many people found them comfortable to wear. Hanson split the front of the boot and used a sliding clamp to adjust flex. Slide the clamp to the top for the stiffest flex, slide the clamp to the bottom for the softest flex.
The rear-entry design caught on quickly with recreational skiers. By 1975 Hanson was competing with Lange for market share. By 1980 they were producing 120,000 ski boots a year which was approximately 50% of the United States market. You saw a lot of the bright orange or lime green Hansons on the slopes.
But the Hansons made some bad business decisions including buying the Hexcel ski company. Then the 1982-83 ski season was hurt by a lack of snow which translated into poor sales. In 1984 the Hansons ran out of cash and sold the company to Daiwa of Japan. Hanson ski boots disappeared from the United States and European markets.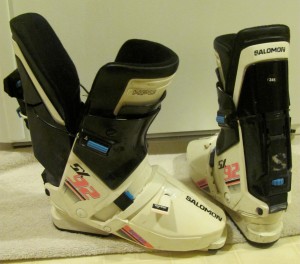 Many ski boot companies would try to fill the void left by Hanson's departure by introducing rear-entry models. Even Lange would have some rear-entry boots. However Salomon would have the most success in the rear-entry ski boot market. They actually went after the high performance racing market with their SX-9x series that had a more complicated design to adjust hold-down and flex. Just like the Hanson they caught on quickly and developed a fanatical following, but again only with recreational skiers.
Bob Walker took up skiing "late in life" during the 1980s. He started with Salomon's first rear-entry boot the SX-90. After ten plus years he upgraded to the SX-93 which he then skied on until about 2005. "They were warm, comfortable, easy to get on and…I liked the idea that you could adjust the stiffness by just sliding a control on the front of the boot." Bob now logs more than a million vertical feet of skiing a season in the Lake Tahoe region with conventional front-entry boots.
Somewhere in the late 1990s ski boot companies began to retreat from rear-entry boot models. To my knowledge only Alpina still advertises a rear-entry, medium-priced model now. The accepted explanation is that conventional front-closing ski boots are now easier to put on and more comfortable so there's no need for rear-entry models. Hmmm? Am I the only one who doesn't buy that explanation?
Meanwhile I'm betting if we get some snow this season, I'll still see someone using 25-year-old Salomon SX92's probably on some skinny Dynastars! Say what you will, at least their boots are comfortable!