One of my skiing idols before I moved to Vermont in 1968 was Art Furrer. In fact, one of the reasons I bought my Hart Javelins was because Art Furrer skied on Javelins. He was one of the skiers in the 1967 ski film "The Incredible Skis" which showcased the Hart skis. Maybe one of the reasons I liked Art Furrer was because in that film he played a computer nerd and I was a computer nerd!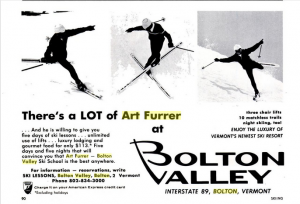 I loved all the tricks Furrer did on skis. By today's standards those tricks were pretty basic, but at the time we all had to try them. There was the Charleston, the Reuel (Royal) Christy, the Butterfly, the step-over, and the Javelin turn. An aside here: a step-over with 205 or longer skis isn't an easy trick!
When Bolton Valley opened in 1966 they hired Art Furrer to be the head of their ski school. So that meant Bolton Valley was on my list of areas to visit. My first time at Bolton Valley was for night skiing. In those days Bolton had three lifts, all operating from their base area. On the right was a short beginner lift, in the middle a slightly longer lift that served both beginner and some intermediate terrain, and on the left a longer lift. For night skiing they used the middle lift and had two lighted trails. It was very comparable to other night skiing areas I had visited in terms of length and challenge.
I looked forward to my first day visit to Bolton to see what the whole mountain had to offer. That really meant what kind of skiing did the long lift offer? On my first daytime skiing opportunity at Bolton I discovered a couple of things: Art Furrer was nowhere in sight and the best vertical was the access road! That long lift only served two trails and most of those two trails were a flat runout. Well, there was plenty of opportunity to practice my Reuel Christies!
Despite my disappointment, Bolton would still be a place I visited often during that first season thanks to the night skiing. It was the social scene as much as the skiing that drew me there. And the center of that social scene was the James Moore Tavern!
Bill Doble, Selden Hannah, and Walt Frey all had the correct answer to last week's trivia question identifying Bolton Valley as the home of the James Moore Tavern. Walt added that it was a nice après ski place he had visited often.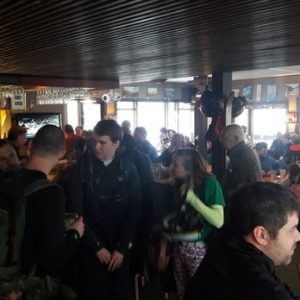 In 1968 everything at Bolton Valley was still new. The James Moore Tavern was a classy bar that overlooked the lower slopes. You could take a couple of runs, come in for a drink, and repeat. Or you could take a run, come in for a couple of drinks, and repeat. That latter pattern was particularly popular during the subzero nights in January! When the skiing stopped at 10PM, there was still action in the Tavern.
I can't write about Bolton Valley without mentioning my Corvair. The winter of 68-69 set a record for snowfall which meant the Bolton access road was often challenging. My faithful 1965 Corvair always got me there! On a particularly snowy night, I was one of the few to make it up the hill. Not much socializing that night, but fresh tracks on every run. Yeah, I know it was only Bolton, still fresh tracks are fresh tracks!