Most ski equipment is made outside the United States. That was true during the Retro-Ski days and it's still true today. Independent companies actually import the gear and distribute it to ski shops in the United States.  In general we may not reconize the names of these distributors, but in the Retro-Ski days, a few distributors became household names. These included A & T (Anderson & Thompson), G. H. Bass, Garcia, and Beconta.
Skiing historian Seth Masia says that Beconta was the most successful of these distributors. It certainly was the one with the most Vermont ties over the years!
Beconta was founded by Walter Blascoe in New York City right after World War II. Blascoe was a German Jew who managed to escape to the United States before the war. During the war he was a technical adviser to the 10th Mountain Division. Once the war was over Blascoe was able to sign up companies in Norway, Italy, and Switzerland to import their sporting goods into the United States. His primary interest was track-and-field gear, but he also acquired ski equipment from names such as Attenhofer and Henke.
Beconta added Nordica ski boots in 1949, just before their popularity exploded. As I wrote last week, Italian Zeno Colo won three medals at the 1950 World Championships in Nordica boots that he helped design! Nordica ski boots caught on in the U.S. thanks to Beconta.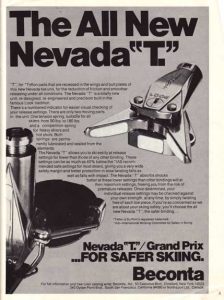 As skiing equipment became more sophisticated and the number of companies making equipment increased, Blascoe hired a Vermonter to head up the skiing portion of his import business in 1957. Norm Macleod was a Vermonter, however at the time Blascoe hired him, he was managing a ski shop in the San Francisco area.
One of the first products Macleod added to the Beconta line was Look Nevada bindings. The bindings were pricey, but their technology was way ahead of the competition. The success of racers using the Look bindings at the 1960 Squaw Valley Olympics made the bindings best sellers in the United States. Macleod also added Volkl skis to the Beconta quiver.
It wasn't just foreign products that Beconta distributed. Beconta also took on Vermont-based products probably influenced by Macleod's Vermont connections. Moriarty hats were distributed by Beconta and their ads featured Ma Moriarty with her knitters. Fritz Wiessner's Fall Line ski wax was also part of the Beconta product set.
In the late 1960s, Macleod was not satisfied with Nordica's progress on developing a plastic boot that could compete with Lange. It was Macleod and Beconta that hired Sven Coomer to work with Nordica and develop the Astral Slalom "banana" boot. So in effect Beconta had as much to do with that wildly successful ski boot as did Nordica! By 1975 Beconta sold 350,000 pairs of Nordicas.
Then it all began to unravel. Major European ski companies began setting up their own manufacturing and distribution facilities in the United States. Rossignol was one of the first establishing a factory in Williston. In 1976 Nordica cancelled its agreement with Beconta and entered a joint-venture with Rossignol to distribute its ski boots.
Beconta scrambled to sign up another Italian ski boot manufacturer, Dolomite. In addition, Beconta dropped Volkl and picked up Kastle skis. Kastle had a more complete line of skis than Volkl and Beconta hoped this would make up for lost revenue from the ski boots.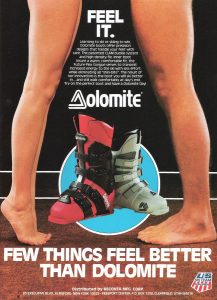 As part of making Dolomite more competitive in the United States, Beconta set up a Dolomite boot factory on Sand Hill Road in Essex, Vermont.
That Dolomite factory was not long-lived. There was worry at the Dolomite home office that the U.S. factory would steal jobs from Italians. The company put restrictions on what could be made at the Essex factory. The relationship between Beconta and Dolomite would dissolve amid lawsuits. By 1993 Beconta had lost all its major brands and closed its doors.