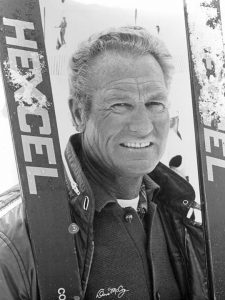 Dave McCoy was born in 1915. After visiting the eastern Sierra region of California as a teenager, he was drawn to the outdoor life of the mountains which included fly fishing and skiing. He built his own first pair of skis in high school shop. Upon graduating from high school McCoy moved to the eastern Sierra eventually settling in Bishop, California. He landed a job with the Los Angeles Department of Water and Power as a hydrographer (snow surveyor) which resulted in him skiing as many as 50 miles a day.
In 1937 McCoy had the idea of setting up a rope tow on a small mountain near the main road to Bishop. However he had no money, so he went to the local bank in Bishop for an $85 loan to construct the rope tow. The bank turned him down. But the secretary at the bank lobbied for McCoy and even threatened to quit if he didn't get the loan. The bank reconsidered and gave McCoy the loan. That secretary, Roma, would become Mrs. Dave McCoy in 1941!
The loan put McCoy in the ski business even if it was only on a small scale. However he already had his eye on a bigger prize, Mammoth Mountain. His work as a hydrographer had shown him Mammoth's potential with a reliable snow pack that lasted from November well into the summer months. Eventually he received permission from the National Forest Service to set up two portable rope tows on Mammoth.
By the 1950s the Forest Service decided that Mammoth would be a good location for a full scale ski resort so they put the right to develop Mammoth out for bid. McCoy was not in the financial position to enter a bid. But no other investors bid on the project either! Their opinion was Mammoth was too remote, too windy, too dangerous for a serious investment. So in 1953 the Forest Service gave McCoy a permit to develop a ski resort on Mammoth. The permit stipulated that Dave improve runs, add food service, provide first aid and build a chairlift.
Dave McCoy worked a minor miracle arranging financing and constructing the eastern Sierra's first chairlift. Mammoth Mountain opened as a ski resort in November 1955. The small base lodge doubled as a place for the McCoys to live.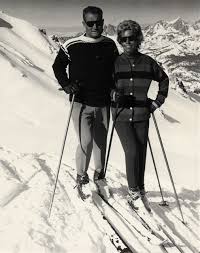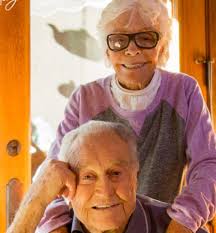 McCoy would continually reinvest his profits expanding Mammoth until it truly was "mammoth". By the end of his tenure in 2005, Mammoth would have 27 chairlifts. He also invested in the local community, Mammoth Lakes. McCoy and his staff launched a water district, volunteer fire department, regional hospital, high school, skiing museum and college.
McCoy had been a ski racer, winning the California state slalom championship when he was 22. In the 1950s and 60s before the U.S. Ski Team was organized, Mammoth became a second home for competitive skiers and McCoy was a popular coach. Jill Kinmont and Linda Meyers in the 1950s were Mammoth skiers. As was Jean Saubert who won two medals at the 1964 Olympics. Two of McCoy's children also distinguished themselves on the U.S. Ski Team. Penny won bronze at the 1966 World Championships and Dennis ("Poncho") was a top downhiller on the men's team.
In addition to skiing, Dave McCoy had many other interests. He was an accomplished fly fisherman. He was a dirt bike rider who in later life switched over to ATVs. He took up mountain biking in his 80s. And he was an excellent photographer. While I never met Dave McCoy, I did benefit from his organization and thoughtfulness. In publishing my book, I had to acquire permissions for the images I wanted to use. This turned out to be one of the most time-consuming tasks I had to do. Unreturned phone calls or emails were the norm. But to use some of McCoy's historic photos, there was an identified contact person who quickly handled my request and provided permissions electronically signed by Dave McCoy.

Dave McCoy died peacefully at his home in Bishop, California, on February 8, 2020, at the age of 104. He is survived by Roma, his wife of 78 years! He is also survived by their 6 children, 19 grandchildren, 34 great-grandchildren, and 1 great-great-grandchild. He also leaves behind one of biggest ski areas in the United States. Tomorrow, Friday February 28th, Mammoth will host a memorial service for Dave McCoy.