A few weeks back, a video made the rounds on social media and was even included in the video edits of the weekly Chairlift Chat put out by Ski Essentials. The title of the video was "Why Ski Resorts Are Dying" which certainly caught my attention. I mean, here we are complaining about the crowds and traffic. That doesn't sound like resorts are dying?

The video was a product of Cheddar which bills itself as "the leading post-cable news, media, and entertainment company." That means they are available via most streaming sources as well as social media (Facebook, etc…). However if this video is an example of their work, I'm not impressed with the depth of their reporting. It may not quite be "fake news", but it is "click bait," as one commenter called it.
And it is a classic example of reverse research: come up with a provocative, catchy headline and then choose data that supports that headline. It's what I would expect from a high school student who chooses a topic and then waits until the night before the assignment is due to begin work. As an example, the "dead" resort highlighted is the Nevele resort in Ellenville, New York. While it did have a small ski slope associated with it, skiing was never meant to be its primary draw. And the narrator mispronounces the name of the resort which could have been determined by a quick check on Wikipedia (NEV-uh-lee!)
The video does interview Win Smith who paints a more positive view on the future of skiing and ski resorts. But he highlights some of the challenges the business is facing.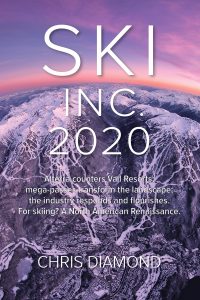 So since Cheddar seemed to offer the high school version, I decided to read the PhD version of the current status of the skiing business. "Ski Inc. 2020" is a book by Chris Diamond. Diamond is a long time insider in the skiing industry. He started at Killington under Pres Smith and then was the President of Mount Snow from 1977 until 1994. From 1998 to 2015 he headed Steamboat Ski Resort. In 2016 he wrote "Ski Inc." only to see almost everything he wrote about change in the next couple of years!
So Diamond wrote "Ski Inc. 2020" which details the changes brought by the Epic and Ikon mega-passes. He discusses the impact those have on other major multi-resort companies such as Boyne and POWDR as well as the independent ski resorts. Unlike the Cheddar headline, Diamond believes ski resorts are potentially on the brink of another "golden age!" Yes, there are challenges, but the well-run resorts can rise to meet them.
For anyone in the skiing business, this book is must reading. Dave Kaufman who teaches Ski Area Management at UVM has made this required reading for his students. Even for those of us who are consumers of skiing, the book is a good read. However I did have to look up what EBITDA meant.
Diamond sees two main challenges for ski resorts: climate change and participation rates. Climate change is a two-edged sword in that successful ski areas must rely more and more on snowmaking while trying to lower their carbon footprint. The major players, Vail and Alterra, are committed to this. But it will be a greater challenge for independent areas.
Participation rates are a U.S. problem. In Europe participation rates are up thanks to the economic growth in Eastern Europe. In Asia, China is a giant that hasn't even begun to realize its potential. However in the United States the number of people who ski (or snowboard) has actually dropped below 10 million. That's less than 3% of the population.
Both the Cheddar story and Diamond highlight that the participation of Baby Boomers who have carried the ski industry will shrink with time. And the second largest segment of the U.S. population, Millennials, isn't in a position to pick up that slack, much less increase the total. Based on 2017-18 data, Baby Boomers made up 16% of skier visits; Gen X (born 1965-1980) 25%; Millennials (born 1981-1996) 25%; Gen Z (born since 1996) 34%. So the answer to last week's trivia question is skiers and riders under age 25 make up the largest percentage of skier visits!
After reading the Diamond book, I have a couple of observations. As skiers we are very lucky that there are people with deep pockets willing to risk huge investments for the sake of skiing! There's no question that they could invest that money in other ventures for greater returns. However their love of the sport assures we can pursue our common avocation.
Second, I will make a bold prediction. Skiing in the United States today is a niche sport primarily the domain of the financially well-off. In the future skiing will become a niche sport primarily the domain of the financially well-off!