Back in January I showed a home movie of a ski trip I took with a group of friends in 1974. It reminded me of what was happening here in the United States independent of skiing which did affect the way we planned the trip.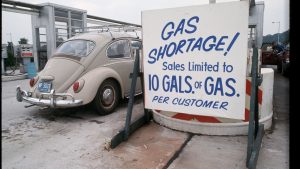 In October of 1973, OPEC announced an oil embargo that significantly impacted the United States. Gas prices shot up and there were fuel shortages. Gas stations began limiting how much gas you could purchase at a time. Some states went to schemes such as even number license plates could buy gas on even numbered days. There were gas lines even here in Vermont.
In January 1974 the United States lowered the maximum speed limit to 55mph and put Daylight Savings Time back in effect as ways to reduce fuel consumption. By February, AAA reported that 20% of the gas stations in the U.S. had no gas.
There would be 10 of us going on the ski trip and our primary destination was Sun Valley in Idaho. However it was going to be a two week trip and we wanted to visit a few other resorts as well. So how do we get 10 people around in a gas constrained environment? The plan became to fly into Salt Lake City, stay in the city for a few days, and use public transportation to ski Snowbird and Alta. Then we would rent a van that would hold all of us and drive up to Sun Valley. Then cruise over to Jackson Hole for a couple days before heading back to Salt Lake.
One of the fellows on the trip, who will remain nameless, knew a guy who knew a guy who could get us a deal on a van. When it came time to head for Sun Valley, we picked up the van and somehow fit 10 people, their luggage, and ski bags into it. One person did have to sit on some luggage between the front two seats facing backwards, but we rotated through that position.
Off we went to Sun Valley. Well, actually Ogden, Utah, where the van died! With the help of a local mechanic, the points and plugs were changed and we were back on the road.
The group traveling together consisted of friends and friends-of-friends. In other words, we didn't all know each other. After a few hours in the packed van we knew everybody a lot better … or worse as the case may be!
We had a great time skiing Sun Valley including some great powder, which Sun Valley isn't necessarily known for. We also got to say we saw Steve McQueen who was apparently a Sun Valley regular.
Sun Valley is the oldest "built for skiing" resort in the United States. Built by railroad magnate Averell Harriman in 1936, Sun Valley was where the first chairlift was installed. It remains an independent ski resort outside the Vail and Alterra domains although your Epic pass is good for a couple days there. The primary mountain is Baldy, so named because it was the only mountain in the vicinity that had trees on it.
Baldy has something for everyone although beginners might want to start on Dollar Mountain, a separate mountain, but still part of Sun Valley and a great learning area. There is some open bowl skiing, but most of the expert terrain is on the trails. And in 1974 those trails were heavily moguled! I'm betting today some of those get groomed, but not in 1974. The most famous is Exhibition, but there are plenty more that can test your mogul skills.
In 1974 Sun Valley was home to some of the best mogul skiers in the United States. At about 2:30 every afternoon you'd find a bunch of them on the Warm Springs run having an informal competition. It was fun to watch, but intimidating to be on the same trail with them!