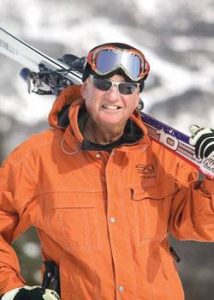 Stu Campbell was born in 1942 in Brooklyn, New York. We'll still claim Stu as a Vermonter since the family moved to Bennington when Stu was three years old. He learned to ski at nearby areas such as Bromley, Snow Basin, and Hogback. His first skiing visit to Stowe was in 1953 with his father and apparently it was love at first sight.
Stu went to Northfield Mount Hermon prep school where he captained the ski team. Those were the days when skiers competed in all events: cross country, jumping, slalom, and GS. Stu loved the alpine events, excelled at cross country, and survived jumping. Stu often won the skimeister award at the high school ski meets.
From Northfield Mount Hermon Stu went to Middlebury College where he was a four event skier for legendary coach Bobo Sheehan.
After graduating from Middlebury in 1964, Stu pursued a career as a high school English teacher. This brought him to Harwood Union in Waitsfield in 1967. In addition to teaching English, he became the ski coach. He also was a part-time ski instructor at nearby Glen Ellen, now Sugarbush's Mount Ellen.
In 1970 Stu decided to make skiing, or more accurately ski instructing, his full-time job. To put it in his words, "I took the ski bum route!" Stu was named the Technical Director of the Sepp Ruschp Ski School in Stowe. However it's hard to keep an English teacher down, and Stu began writing. In 1974 he published his first book "Ski with the Big Boys."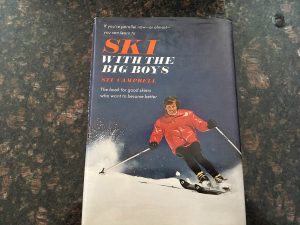 Former Smuggs' ski instructor Pat Ostrowski had the answer to last week's trivia question. He says "Stu Campbell wrote 'Ski with the Big Boys' while he was still at Stowe. I had a copy of his book and studied it often. He used some of the Stowe instructors in his illustrations and pictures. He'd come over to Smuggs to address the Ski School there. I had him autograph my copy of 'Ski with the Big Boys'. Stu was an interesting, informative, and knowledgeable speaker."
I also received answers from Charlie Lusk and Bob Kasvinsky. Bob was a Delta Upsilon fraternity brother of Stu's at Middlebury College and says Stu was "Gone way too soon – I miss him!"
Stu Campbell would write 5 more books on ski technique. Starting in 1976 Stu became the ski instruction editor for SKI magazine. His columns were a must read for many of us. He was a sought-after ski instructor, a PSIA Examiner, and on the PSIA Eastern Demo Team. Stu also wrote books on composting ("Let It Rot") and underground homes!
In the late 1970s Stu would leave Stowe to become the Vice President of Skier Services at Heavenly Valley near Lake Tahoe. He was in charge of the ski school where Stu got to teach celebrities such as Sonny Bono, Clint Eastwood, and John Denver. He also ran the race program which included hosting World Cup events and celebrity fundraisers.
During his tenure at Heavenly, Stu and his wife Carol West would return to their underground home in Stowe for the summers. But finally in 1997 Stu and Carol returned to Stowe permanently. Stu was quoted as saying "I have skied many of the great resorts, but Stowe always draws me home." He kept himself busy instructing, consulting on product development for Lange and Dynastar, and pursuing his newfound love, golf! He was instrumental in developing the Country Club of Vermont in Waterbury.
Stu Campbell died December 4, 2008 after a long battle with cancer. Per his wishes, some of his ashes were scattered on Lullaby Lane, one of his favorite teaching trails. The remaining ashes are buried in the Stowe cemetery with a monument that simply states "Stu Campbell, Ski Teacher."
It's one thing to acquire the skills required to make a ski turn. It's entirely different to be able to understand intellectually all that goes into a ski turn. And it is another challenge to convey in a clear, concise, understandable manner the concepts involved to others. Stu mastered all those challenges.