With all this at-home time I've been watching more movies, both old and new. One of those was "Downhill Racer" which is celebrating its 50th anniversary this season. It actually came out in late 1969, but most of us didn't see it until 1970.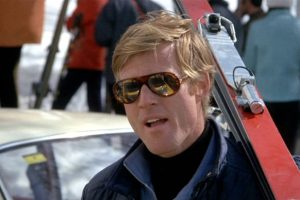 It turns out Robert Redford was far more than the star of the movie. He was the whole driving force behind the movie which included financing the early stages of its development. As most people know, Redford was an avid skier and a good skier. He apparently liked to push the envelope sometimes beyond his ability! He did some of the free-skiing in the film. About the same time he was doing "Downhill Racer" he also opened Sundance ski area just outside Provo, Utah. I was surprised to find out in researching this article that he is 83 years old! I didn't realize he was that much older than I am.
Back in 1970 the movie received quite a bit of hype at least within the skiing world. I remember seeing the movie and being a little disappointed. There wasn't enough skiing to be a ski movie, there wasn't enough romance to make it a romance, and the ending seemed abrupt. I did like the idea of the ending, but I just felt that it could have been set up better. Ask Anna Veith from Austria how it felt in 2018 to be congratulated on her second Olympic Super G gold medal only to see unknown Ester Ledecka post a better time from bib #26!
So what did I think after seeing the movie today? There wasn't enough skiing to make it a ski movie, it wasn't a romance, the ending still seemed abrupt, and I'll add that the main character needed more development. However the close-ups of the vintage equipment were a blast! There were the original Lange's, a pair of my Raichle Red Hots, Marker Exploda-mats, Gertsch plate bindings(I think). The skis were primarily Heads since they obviously provided skis for the movie. However you could catch glimpses of other brands on the actual racers in the film such as Blizzard and Kneissl.
The ski racing shots which include POV views from racers going 60+ miles-per-hour as well as close-up follow shots of racers at speed were part of the hype back in 1970. However today where every kid over the age of 5 has a GoPro, these seem pretty calm. However it helps to understand that to get those shots in 1969 someone had to hold a 15 pound 35mm camera and ski at 60+ miles-per-hour. For some of the POV shots the camera was strapped to the skier's leg!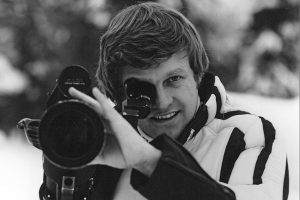 The skier who took those shots is also the answer to the hard part of last week's trivia question! Joe Jay Jalbert was an aspiring ski racer from the University of Washington who almost made the U.S. team for the 1968 Olympics. Jalbert was the skiing double for Redford in the racing scenes. He also did the skiing action camera work. This would lead Jalbert to a career as a filmmaker which included several successful ski racing movies. Overall Jalbert would produce over 800 films. That includes being the official filmmaker for four Olympics. Joe Jay Jalbert was inducted into the U.S. Ski and Snowboard Hall of Fame in 2013.
I did hear from MMSC Historian Mike Leach that Rip McManus, a former MMSC member and Stowe-ite, appeared in "Downhill Racer" as Bruce Devore, the "color" commentator for the TV coverage in the movie. McManus was an alternate for the U.S. Ski Team at the 1964 Olympics.
"Downhill Racer" received modest box office success. It managed to make some money, but that was because it was a low budget production. One of the problems was that the film was released at the same time as another one you might recognize, "Butch Cassidy and the Sundance Kid!" Actually the success of that film may have helped "Downhill Racer" since Robert Redford became a marquee name.
Redford was very frustrated with the obstacles he had to overcome to get "Downhill Racer" made through an established studio (Paramount.) As a result he started the Sundance Film Festival to encourage more independent film production. That festival is now internationally recognized and despite its name, the related events are now hosted in Salt Lake City and Park City.