Last week's trivia question asked who invented the first step-in ski binding. There are two primary contenders, Mitch Cubberley and Earl Miller. I've written about Cubberley and his Cubco binding in the past so this week's column is about Earl Miller.
Earl Miller grew up in Manti, Utah, and the story goes that in 1935 his parents burned his first pair of skis because Earl had been skiing instead of doing his chores. But Earl's ingenuity allowed him to make himself another pair from barrel staves. This ingenuity would lead Earl to be a prolific inventor with 70 patents. While most were skiing-related, he also ventured into other fields such as his fork with one sharp, cutting edge. That apparently didn't catch on.
Earl Miller was a successful ski racer and went on to be a professional ski instructor at Alta. By the late 1940s Miller was convinced that skiing was more dangerous than it needed to be, so he set out to design a safer binding. In 1952 Miller introduced his Hanson binding. The binding handled both toe and heel releases from many angles rather than just the lateral release supported by other bindings.  In addition it was a step-in, arguably the first step-in.
I say "arguably" because at almost the same time Mitch Cubberley introduced his Cubco. Both bindings supported multiple release angles; both bindings were step-ins; both bindings required metal attachments to the ski boot. This began an unfriendly battle between the two inventors over whose binding was better. The feud continued when both introduced the first ski brakes to go with their bindings. Both of those brakes were single blade varieties which didn't catch on, but it continued the rivalry.
In comparing the two bindings, one thing is obvious: the Miller binding is much more aesthetically pleasing!  A famous quote about Cubberley was that he "had a positive genius for designing the most effective and at the same time the ugliest-looking bindings in the ski industry!" I also think geography figured into the feud. Cubberley was an easterner so his bindings gained acceptance on the east coast while Miller being a westerner was more popular in the west. One claim Miller could make was that some competitors at the 1960 Squaw Valley Olympics used his bindings. I doubt that there were any competitors on Cubcos!
One thing is for sure, Earl Miller went all-in marketing his bindings. He traveled around to ski areas where he would take horrendous falls at speed to prove his bindings worked. He challenged others to match his falls using other bindings with the warning "bring your own crutches!" He offered $500 to anyone using his bindings that broke a leg. In today's world that doesn't sound too impressive, but back in those days that could get you top of the line skis, boots, bindings with enough money left over to afford a season pass! In 1963 Miller was a driving force behind the first National Falling Contest held at Alta.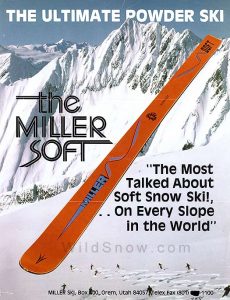 In 1972 Miller turned his design skills toward skis. In particular he was looking for a ski that handled the powder better than the conventional skis of the era. The result was the Miller Soft which developed an almost cult-like following. The skis were wider by a full centimeter than typical skis with dimensions 99/82/99. Yes, I know that to consider an 82 waist as wide is laughable these days. As the skis' name implies, the ski also had an extremely soft flex. This meant that in powder the ski acted like a rockered ski, a rockered ski over 20 years ahead of its time! The Miller Soft would remain a popular backcountry choice for over 20 years.