I'm back for another season of skiing memories and nostalgia. When I left off last season I had shared the hope that this season might offer a closer return to "normal". However it's shaping up to be anything but normal and still filled with a lot of uncertainty.
In preparation for an uncertain season, my wife and I helped the local economy by investing in backcountry gear. We even got to try it out on Election Day with some Backyard skiing!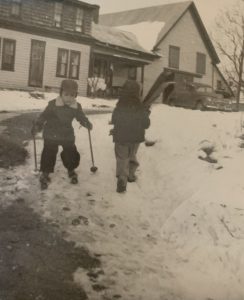 I don't want to give the impression that I'm just joining the latest "fad" or "what's in!" I started skiing as a kid earning my turns and it wasn't until I was in college that I became a regular lift-served skier. I have a picture of me and my cousin in 1949 at about age 4 skiing my grandmother's driveway.
When we got a little older we graduated to the field across the road which had several short slopes. We sidestepped up to pack our "trails" down. We weren't really into powder in those days. We used our imagination to even create our own Olympic venue on the various slopes that the field provided. There was the slalom slope through the apple trees, the GS slope, and even a downhill. The downhill slope was the longest slope, but not very steep. We even had a ski jump off a rock on one of the hills. By the way, that was more like a modern freestyle jump than a traditional ski jump since it had a kicker!
That field has now grown in with trees and in some ways I'm glad it has. I look there today and I don't even see a hill! I'd be embarrassed to point out that it was where I started skiing and that it seemed like such a big deal at the time.
By the time we were in high school we moved up another notch, skiing trails in the White Mountain National Forest behind our houses. My father had actually skied these trails on homemade skis when he was growing up. The first was the Alphy Head trail which had been the driveway/road to the Head Farm before the National Forest took over the land. That made it wider than a standard hiking trail. It was about a quarter mile in length and about a quarter mile from our houses. It was an after-school destination to hike and ski. I do have memories of skiing it by moonlight since our school bus didn't get us home until 4:00PM and in December it gets dark shortly after that.
For a longer skiing experience we used the Middle Sister trail which eventually could take you up Mount Chocorua. It was also an old road that probably was used for logging before the National Forest. We thought we skied about a mile of it, but in actuality it probably wasn't quite three quarters of a mile. We skied it like a downhill. We started at the top of a long straight pitch which was the steepest part. You built up a lot of speed and then had to navigate a sharp right hand turn which for our ability proved challenging. If you did navigate the turn, you could rebuild your speed on a long winding section that was not as steep. Then there was the final steeper pitch which involved tighter turns. Coming into that last section with a lot of speed proved to be particularly exciting!
Much like the field I mentioned, the Middle Sister trail has grown in and is no longer an active hiking trail. I'm sure it would be even difficult to locate where it once was, much less ski it.
For most of my early backcountry experience I was on my parents' 7 foot skis with bear trap bindings and no steel edges. Not that edges made much difference where we were skiing.
For those interested in backcountry this season, the Vermont Ski and Snowboard Museum is hosting a virtual Red Bench with David Goodman next Thursday (December 3rd) launching his new book Best Backcountry Skiing in the Northeast. The Zoom Webinar is free although donations are encouraged. For more information visit their website at www.vtssm.org.